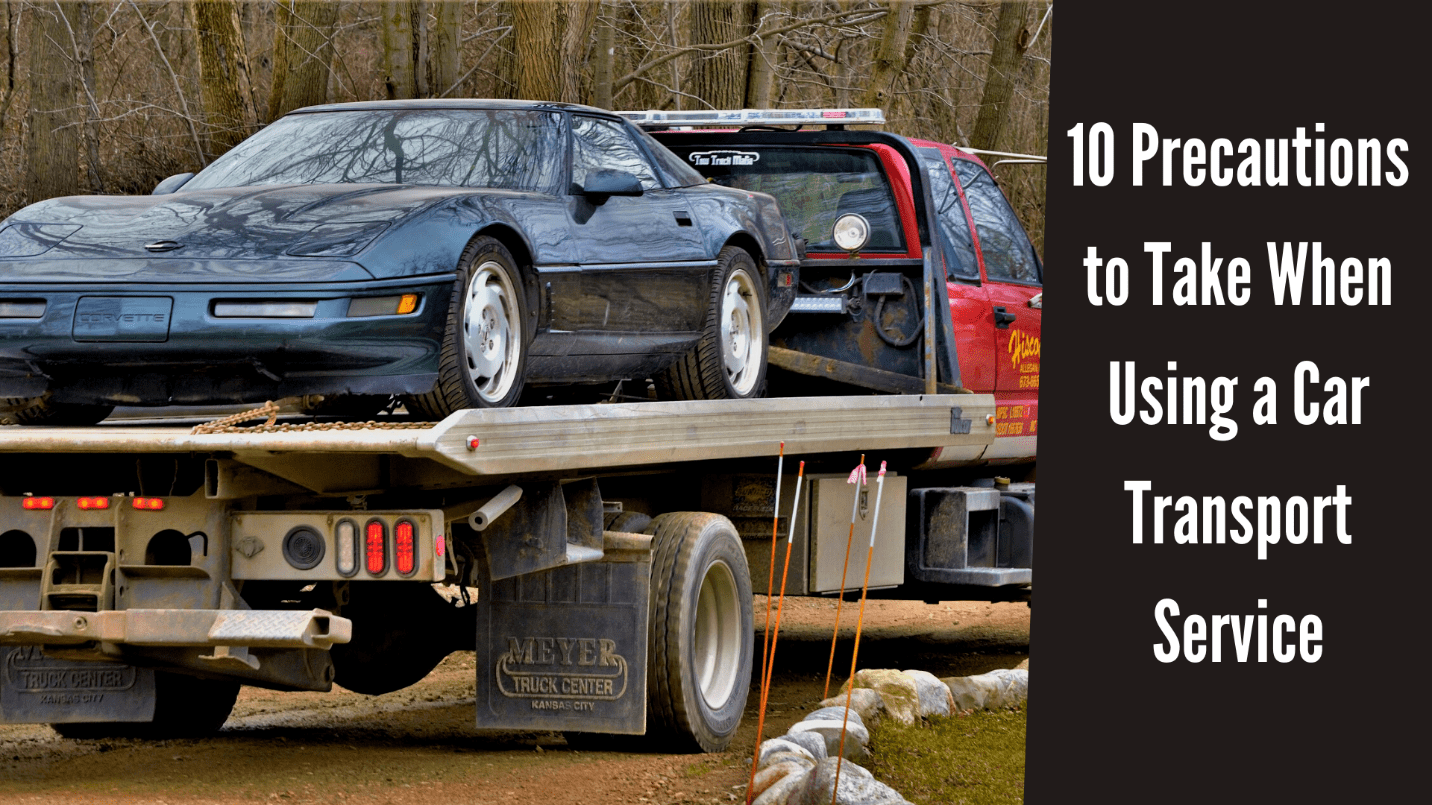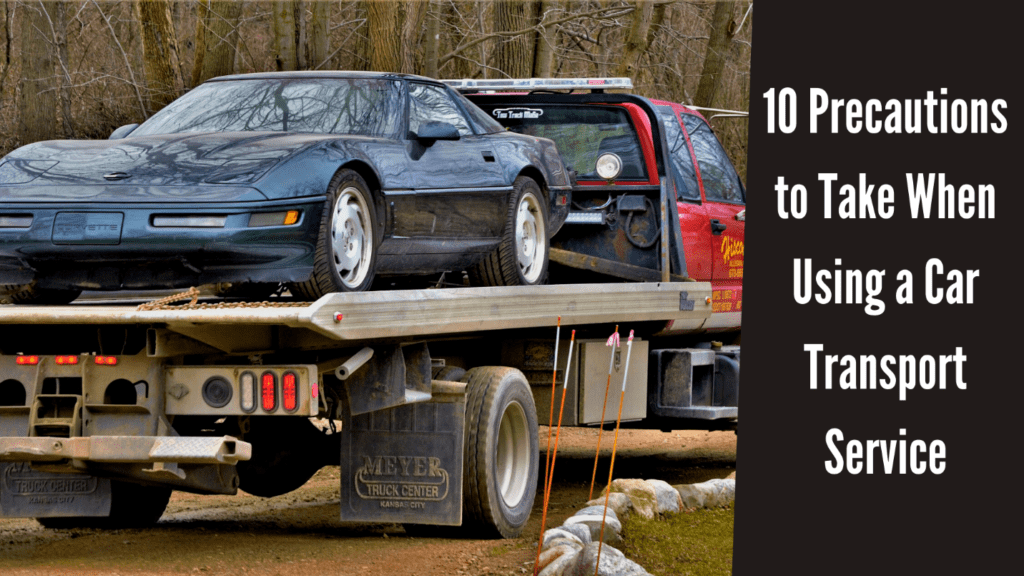 10 Precautions to Take When Using a Car Transport Service
Shipping your car can be a hassle, but it's important to take the necessary precautions to ensure a safe and successful journey.
From packing your car correctly to making sure the transport company you choose is reliable and insured, these tips will help make your car shipping as stress-free as possible.
So be sure to read on for all the important details you need to make the car shipping process as smooth as possible!
Precautions to Take When Shipping Your Car
1. Reading reviews is not a waste of time:
There is no arguing the fact that reading reviews before hiring a car transport company can be extremely helpful. Not only will you save money and time, but you will also avoid any unpleasant surprises.
Before handing over your precious car to any transport company, it's important to do your research – this way, you'll know exactly which companies are of good quality and have a long-standing history of reliability. You might also want to look at the customer testimonials or look for an award as sign of credibility.
Finally, never hesitate to ask around for recommendations; friends and family members often know best!
2. Never give a deposit: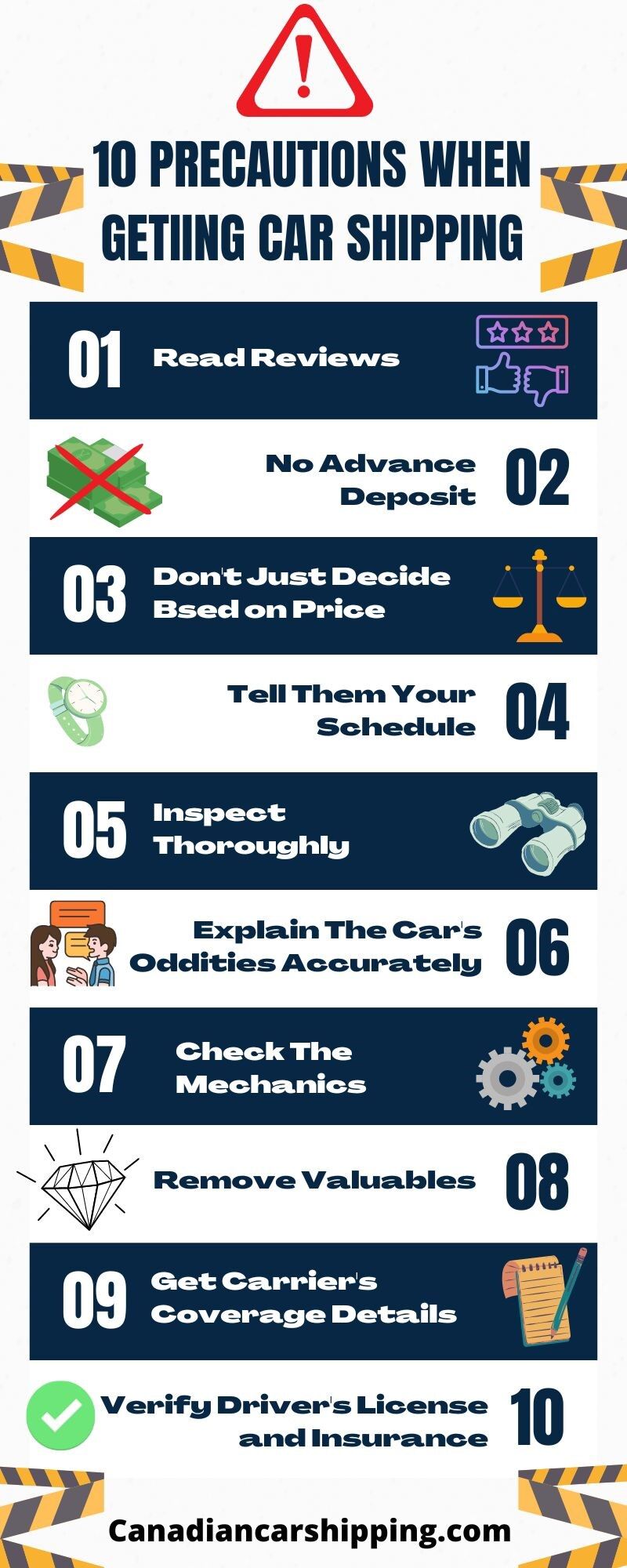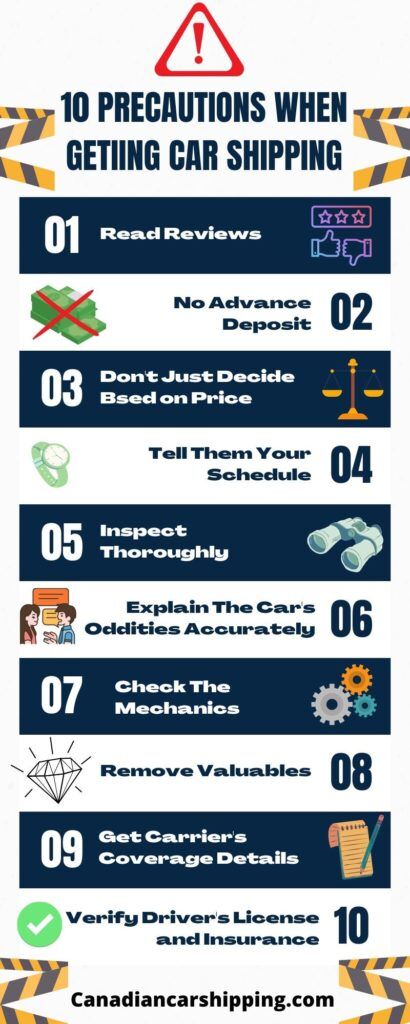 When you're shipping your car, it's important to have a solid plan in place. Never give the transport company a deposit – this will only lead to problems down the line. Instead, always make sure everything is signed and in writing before anything happens.
Also, be clear about which costs are associated with shipping – don't let them charge you extra for something that was mentioned in the contract but wasn't clearly outlined. And lastly, never pay the transport company until your car has actually been shipped!
This will ensure that you have as much leverage as possible and can get rid of any troublesome transport companies easily.
3. Never base your decision on price alone:
When it comes to choosing a shipping company, price is definitely not the only factor that you need to consider. Make sure to compare rates and reviews of companies before making your choice.
Cheap prices might get you a low-quality service, while expensive shipping fees may also lead to dissatisfaction in the long run.
So make sure you're getting what you expected and pay for high-quality services that will meet your expectations.
4. Be aware of insurance policies
It is always important to know and understand the insurance policies that are relevant to car shipping. You should familiarize yourself with the coverage your car shipping company offers and make sure you are clear on any stipulations or exclusions.
Additionally, it's prudent to know the value of your car in case of an accident or claim-related issue. Make sure to have the relevant documents handy and speak to a car shipping company representative if there's anything else you need clarification on!
5. Make your scheduling needs known
When it comes to auto transport, there are some times of the year when it can get really busy. It's always important to make arrangements in advance so that things don't get too hectic and you're not left wondering where your car is.
However, even if things seem to be going smoothly at first, it's always a good idea to add an extra 1-2 days onto the estimate just in case something happens that throws off the entire plan. This way, everything still ends up working out as planned – hopefully with minimal drama!
6. Pay attention during inspections
When you go for car inspection, make sure to take lots of pictures and videos from different angles as well as note down all the important details in the report. Always have the inspection report signed by the carrier and keep a copy of it for your records.
7. Explain the oddities of your car
It is crucial that you give accurate information about your car – including its weight and size – so there are no extra charges incurred at the time of booking.
Last but not least, make sure to let the carrier know if your car has any modifications (such as new rims) so they can properly handle it while in transit.
8. Check All the Mechanics
Make sure all fluids and brakes have been topped off, and that the tire pressure is up the recommended limit.
Also, be aware of weather conditions – your car will be well-protected from strong winds and rain if it is enclosed in a shipping container.
9. Remove Valuables and Other Belongings
Remove anything that can be easily stolen, and make sure the car is properly packed and protected using packing materials. Keep your belongings out of the sight and make sure they are secure by using a locking device or chain.
10. Not Verifying the license and insurance status of the driver
It's crucial to verify the license and insurance status of the carrier. You don't want to work with someone having a canceled license, no insurance, or worse, several claims and accident reports in the past.
Get their DOT number and verify it here to ensure they have an active licese. Also, ask for proof of insurance certificate, call their insurer, and inquire if their insurance is legit.
What to do if you find damage to your vehicle during transport?
Contact the transport company if there are any problems during transport. They will be able to help rectify the situation as quickly as possible. If you notice any damage to your vehicle upon arrival, do not hesitate to report it.
Your copy of the inspection report will come in handy in this regard. You can use it to compare the before and after transport damages, highlight the new damages and file the claim with the auto transport company.
If they don't cooperate, take matters to the court as you have the evidence. You can also leave reviews about them online on all platforms including Google, Facebook, Yelp, BirdEye, and BBB. Also, open a complaint on BBB. All of these things done simultaneously will put pressure on the company to comply with your reasonable demands.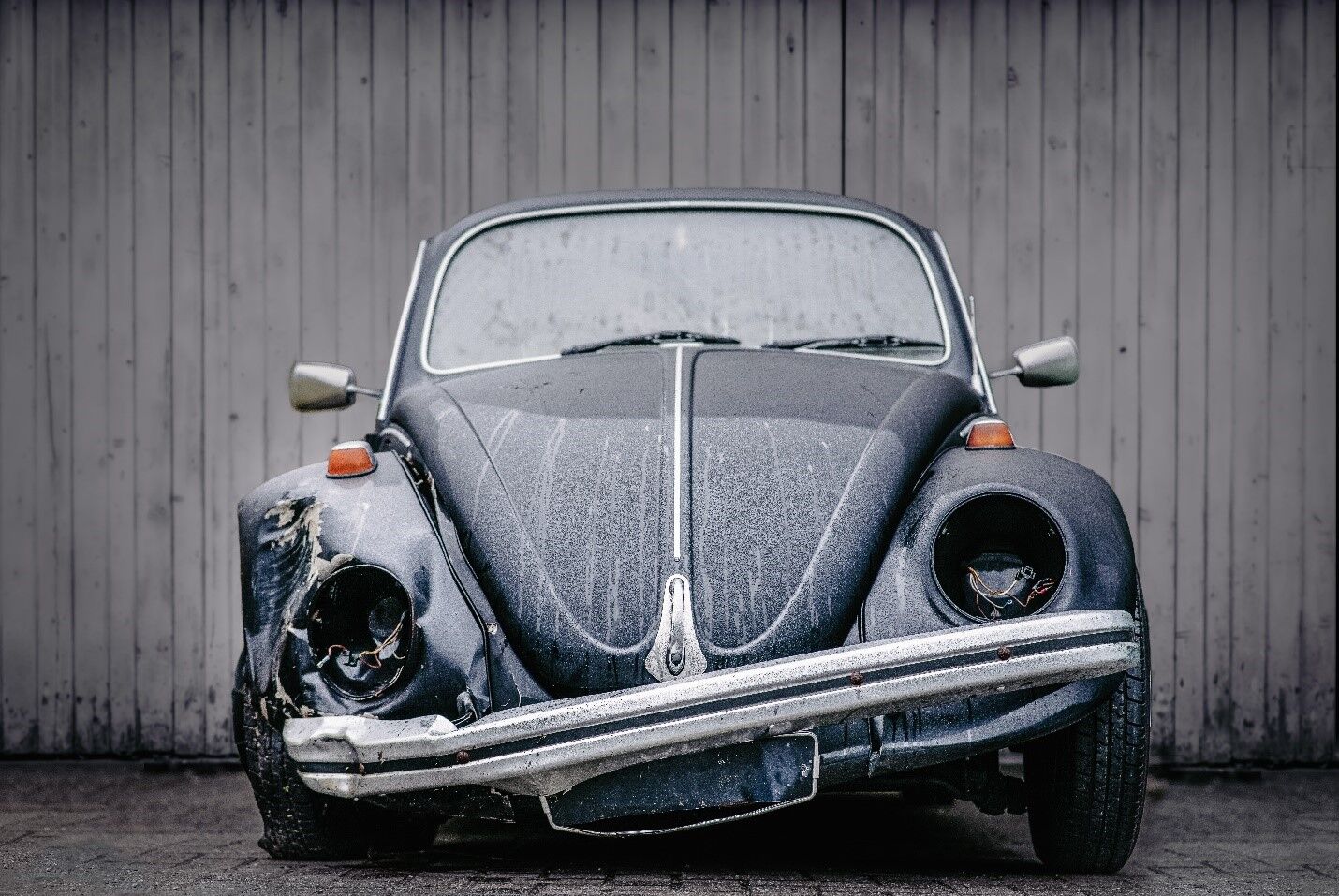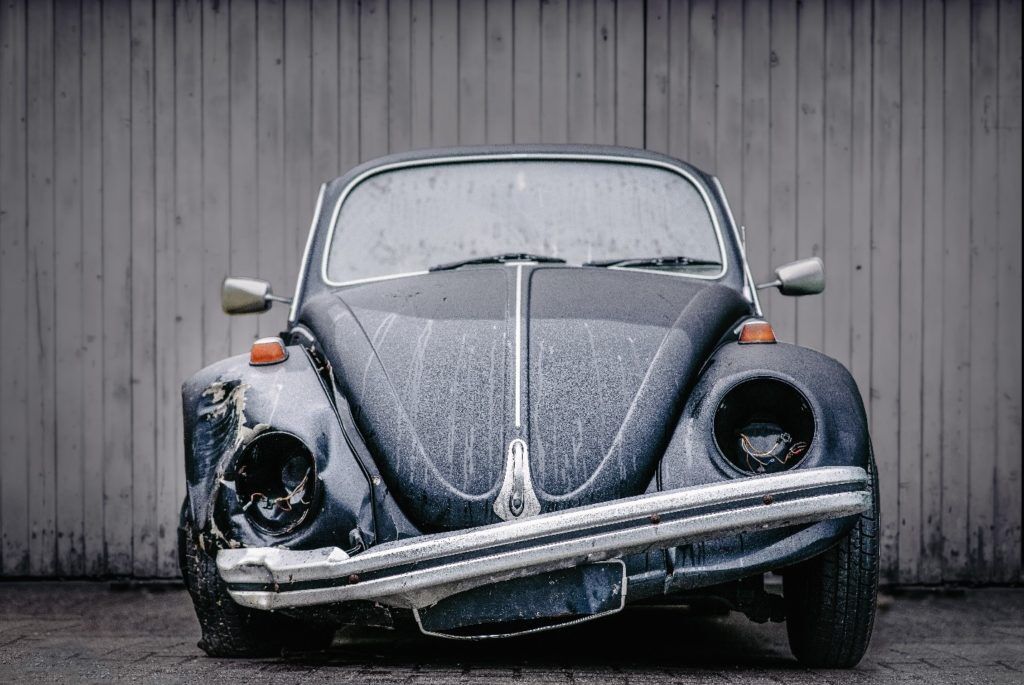 How to ensure you don't get ripped off by a car transport service?
Get a Binding Quote:
It is imperative to do your research before hiring a car transport service. Make sure to check if the company is registered with any government agencies and make sure all the transport trucks and equipment are in good condition.
Furthermore, make sure you have a binding quote from the transport service so there are no surprises later on. Additionally, it's good idea to get a copy of the contract signed by both parties in case of any disputes down the line.
Have Signed Copy of Inspection Report With You
Make sure to have a signed copy of the inspection report with you at all times. Furthermore, make sure you get insurance cover for any accidents or lost property that might occur while your car is being transported. Ask for written quotes that do not include any hidden charges or fees.
Verify that the price quoted is reasonable
Before you sign up for any service, it is always important to verify the price and make sure that the transport company is legitimate and has a good reputation. It's also advisable to ask for references if necessary.
Also, make sure to get a written quote before signing up for their services – this will help ensure that all costs are clear from the beginning.
Furthermore, always be alert for signs of scamming or misrepresentation – such as being charged unexpectedly high fees or not having the expenses clearly outlined on the quote.
Check the credentials of the transport service provider
When it comes to booking transport services, protection is always the key. That's why it's important to check the credentials of the transport service provider before making a decision. Make sure they are registered with relevant authorities and have a good online reputation.
Always keep copies of all required documents handy in case there are any complications or disputes during your transportation experience. Additionally, do some research on who is providing your transport service so you know where you stand when it comes to safety and legitimacy.
Talk to Past Customers
Talking to past customers is one of the most important things you can do to get a precise idea of how well this company treats its customers and their cargo.
By asking them how they felt about the service they received, and any complaints, it will eliminate uncertainity and save time and money in the long run.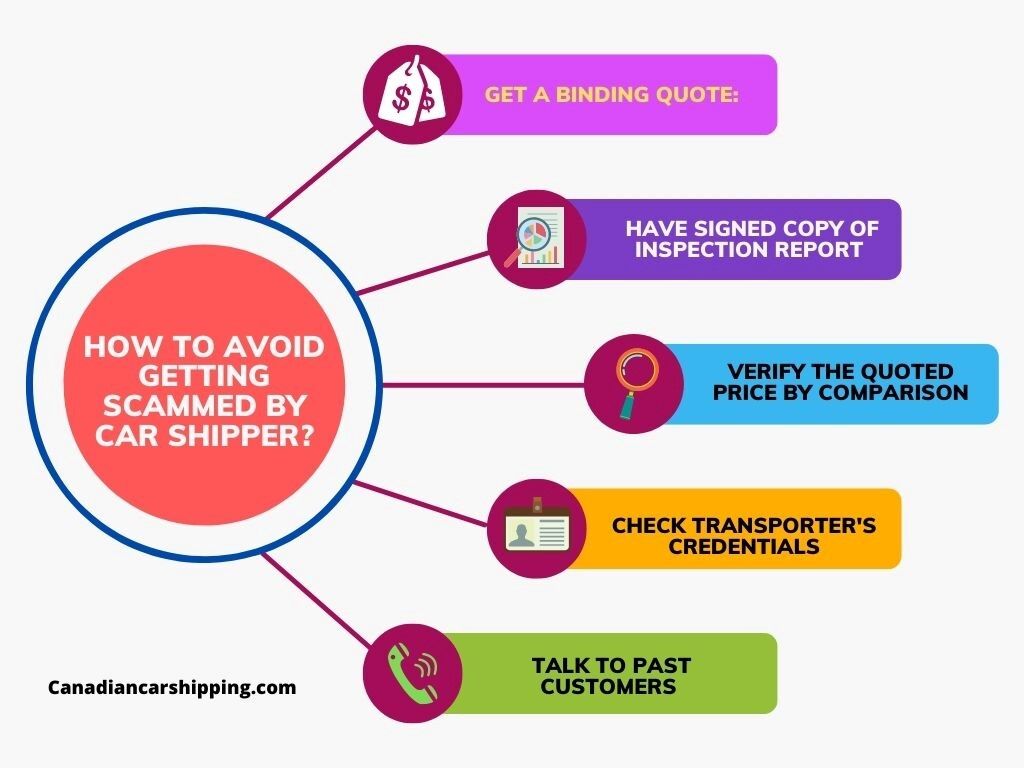 Frequently Asked Questions
What are the most common complaints about car transport services?
The most common complaints about car transport services are that the transport company did not deliver the car on time, the transport company did not meet the agreed upon price, and the transport company did not provide the standard of service advertised.
What are the safest practices to follow when using a car transport service?
The safest practices to follow when using a car transport service include ensuring that the car transport service is licensed and insured, verifying the driver's background and driving record, and choosing a car transport service with a good online reputation.
Canadian Car Shipping Can Help!
The best thing about hiring a car transport service like Canadian Car Shipping is that we specialize in shipping vehicles to any part of Canada or U.S. We guide our customers on proper precautions before shipping a car to ensure their experience with us is a positive one.
The experts at our office will arrange door-to-door transportation services for your vehicle safely while keeping you updated throughout the journey till it reaches its destination without any damage.