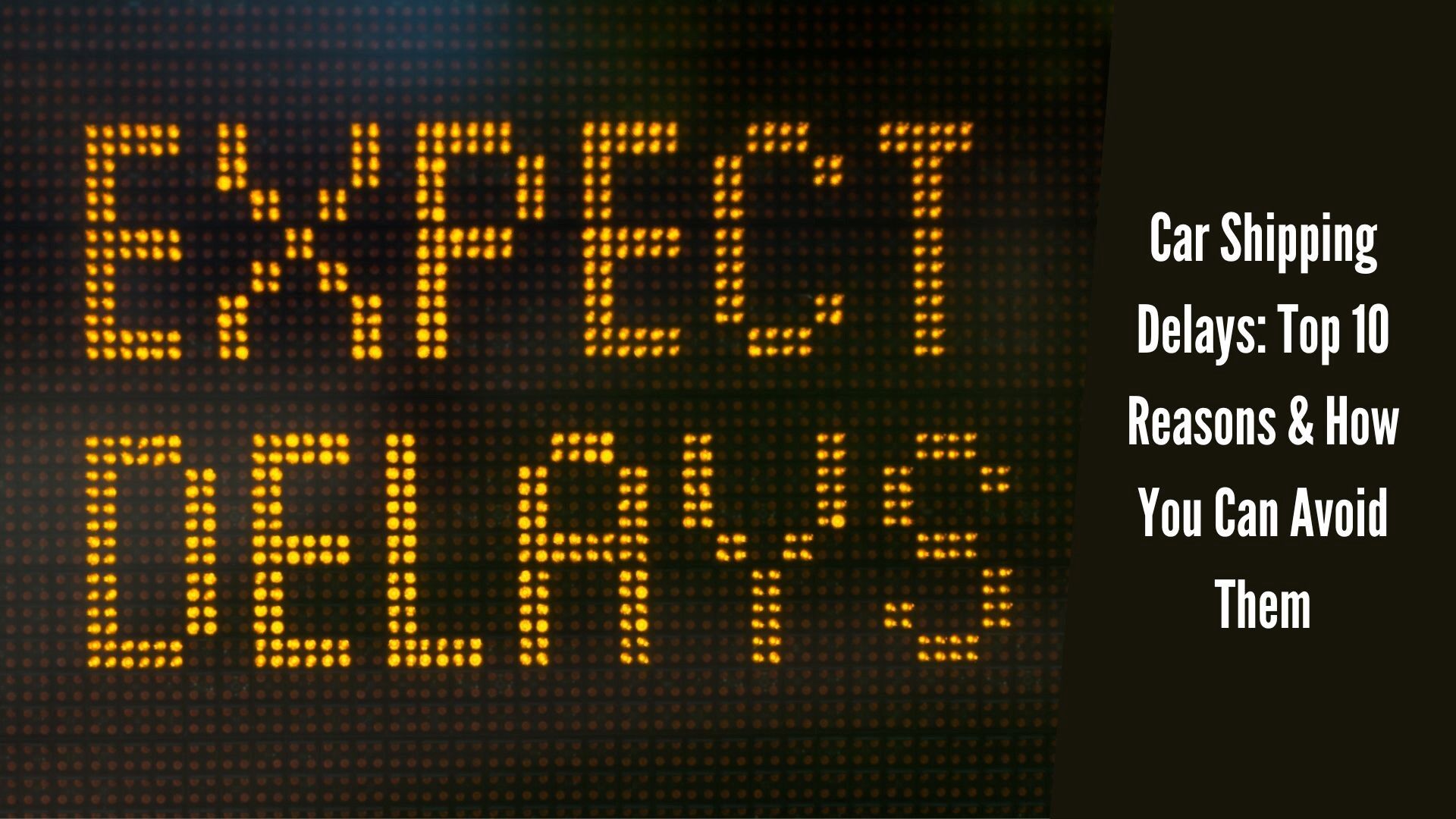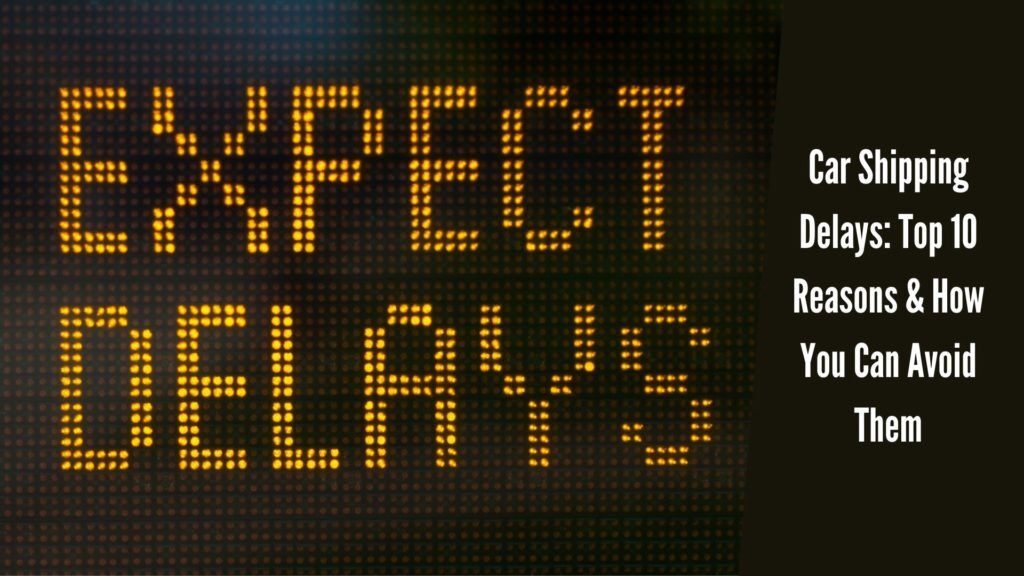 Car Shipping Delays: Top 10 Reasons & How You Can Avoid Them
Are you anxious about the recent car shipping delays causing such chaos? If so, you're not alone. Shipping delays have been causing headaches for many people around the world, and they seem to be getting worse by the day.
In this post, we'll take a look at the top 10 causes behind car shipping delays happen and how you can avoid them.
10 Reasons Car Shipping Can be Delayed
Customs delays:
If you're shipping your car internationally, it will need to clear customs before it can be delivered to its destination.
This process can take days or weeks, depending on the country and the paperwork involved.
Weather conditions
Bad weather can delay shipments by days or even weeks. If there's a hurricane or other severe weather event, all shipments in the area will be delayed until it's safe to resume shipping.
Harsh weather conditions can cause land or ocean shipping delays, especially if it's rainy, flooding, or snowstorm season. To avoid this, you can study the weather in advance and plan your shipping accordingly.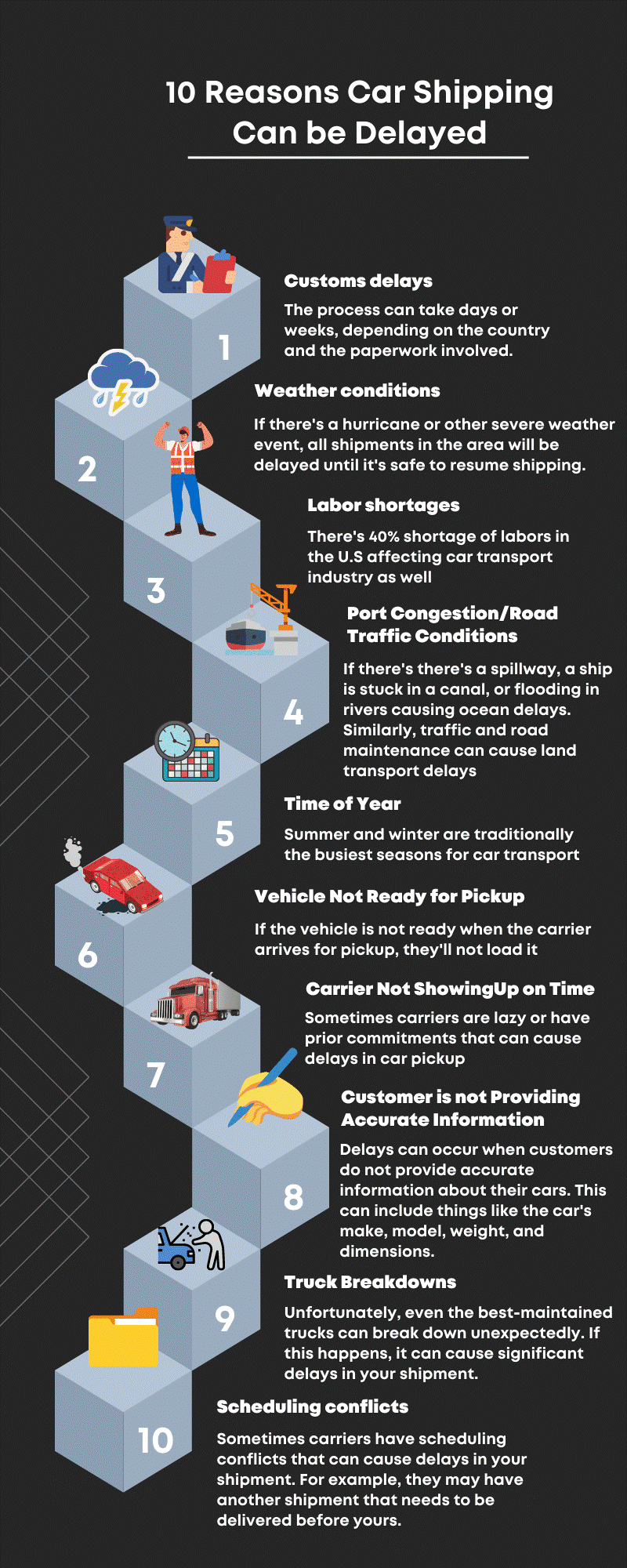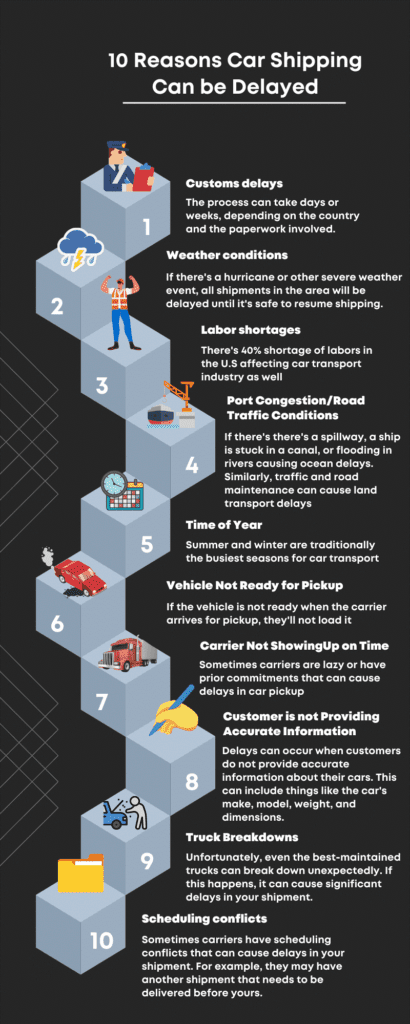 Plus, if you live in an area with extreme weather conditions, such as high winds, snow, or ice, your car shipment may be delayed due to safety concerns.
Labor shortages
Fifth is labor shortages. The ongoing labor shortage in the United States is affecting many industries, including the car shipping industry. In fact, the U.S Chamber of Commerce shared that only 6 million people are unemployed while there are 10 million job openings, so 40% shortage of workers.
This shortage has caused delays in pickups and deliveries as carriers try to find available workers. To avoid this delay, book your shipment weeks in advance so that the carrier has time to find available workers.
Port Congestion/Road Traffic Conditions
Port congestion is a major problem in many areas of the United States, causing delays in shipments coming in and out of ports. This can typically happen when there's a spillway, a ship is stuck in a canal, or flooding in rivers. Road traffic conditions can also cause delays, especially during peak hours. To avoid this delay, add two-three days to your expected arrival date when planning your shipment.
Time of Year
During peak shipping periods, carriers often overbook their trucks in order to meet demand. If they do this, they may have to re-arrange their trucks multiple times before your car can be loaded, which can cause delays.
Summer and winter are traditionally the busiest seasons for car transport, as people take advantage of the good weather to move their vehicles. However, this can cause limited carriers and manpower. This increased demand can cause delays in pickups and deliveries.
The vehicle not being ready for pickup
Sometimes, the vehicle is not ready when the carrier arrives for pickup. Here are some things that can cause this:
The car is not clean – both inside and out.
There are personal belongings still in the vehicle.
The car is not in good working order – e.g. the engine needs to be jump-started, there is a flat tire, etc.
When you book your shipment, you'll be asked to provide a number of documents, including your driver's license, registration, and proof of insurance. If any of these is missing, it can cause delays.
The payment has not been made in full.
Furthermore, if your car is inoperable, you need to tell the company beforehand, as it may not be able to be loaded onto the truck without a forklift or a hydraulic ramp.
Car shipping Carrier not showing up on time
Car shipping companies are unreliable, so their carriers are inefficient. The reasons can be:
They do not own the trucks that they use to transport the vehicles.
The drivers are independent contractors and are not employees of the company.
The company does not have a good reputation for being able to deliver on its promises.
The customer is not providing accurate information
One of the main reasons for car shipping delays is when customers do not provide accurate information about their cars. This can include things like the car's make, model, weight, and dimensions.
If the carrier does not have all of this information, they won't load the car when they arrive for pickup. To avoid this, ensure you have all the required information before scheduling your car shipping.
Truck Breakdowns
Unfortunately, even the best-maintained trucks can break down unexpectedly. If this happens, it can cause significant delays in your shipment.
To avoid this, book your shipment with a carrier with a good reputation for reliability and a backup plan for breakdowns.
Scheduling conflicts
Sometimes carriers have scheduling conflicts that can cause delays in your shipment. For example, they may have another shipment that needs to be delivered before yours, or they may have problems finding an available driver.
What you can do to counter car shipping delays?
Get a Guaranteed Pickup Date
As anyone who has ever shipped a car can tell you, delays are frustrating. And when you're shipping your car, delays can be expensive.
That's why we always recommend getting a guaranteed pickup date from your carrier. It may cost a bit extra, but it will bind the company to pick up your car in provided window.
Study The Weather Before Hiring Car Shipping
Before hiring a car shipping company, study the weather conditions in both the departure and destination areas.
If there is a chance of severe weather, it is best to reschedule your shipment. Storms and floods can cause major delays, and it is not worth risking your car.
It is also important to check the forecast for the days leading up to your scheduled shipment. If the forecast changes and there is a chance of bad weather, you can contact the shipping company to reschedule.
Most companies will be happy to accommodate you if they know there can be delays. By being proactive, you can avoid car shipping delays and enjoy a smooth, stress-free experience.
Prepare Your Vehicle 2 Days Before Pickup Date
If you're shipping your car, be proactive and have your vehicle ready for pickup by doing things like a mechanic checkup, car wash and removing valuables from inside in advance. Below are the top 5 reasons for car shipping delays and how you can avoid them.
Missing or Incorrect Paperwork: Ensure all required paperwork is in order before your car is picked up. This includes a signed bill of lading, proof of insurance, and title or registration.
Poorly Prepared Vehicle: A well-prepared vehicle has had a mechanic checkup, been recently washed, and had all valuables removed from the inside.
Unclear Shipping Instructions: Give clear instructions to the carrier about where to pick up and drop off your vehicle. Make sure you include any special instructions, such as parking permits or gate codes.
Last Minute Changes: Avoid making changes to your pickup or delivery date at the last minute, as this can cause delays. If you must change, try giving as much notice as possible.
Ship in Fall or Book Weeks Before Shipping
If you're planning to ship your car, you might wonder when the best time to do it is. The short answer is that fall is generally the best time to ship, as the weather is more favorable and the auto shipping industry is typically less busy. However, if you need to ship your car at a specific time or during a peak season, you should book your shipment several weeks in advance to avoid delays.
Parting Words:
When it comes to car shipping, delays can happen for a variety of reasons. From bad weather to simple errors, plenty of things can go wrong and cause a delay in your shipment. And you cannot do much about things out of your control.
However, you can be prepared for them by adding a buffer of 2-3 days into your shipping plans. That way, if your shipment is delayed due to weather, you won't be left scrambling to find a new ride.