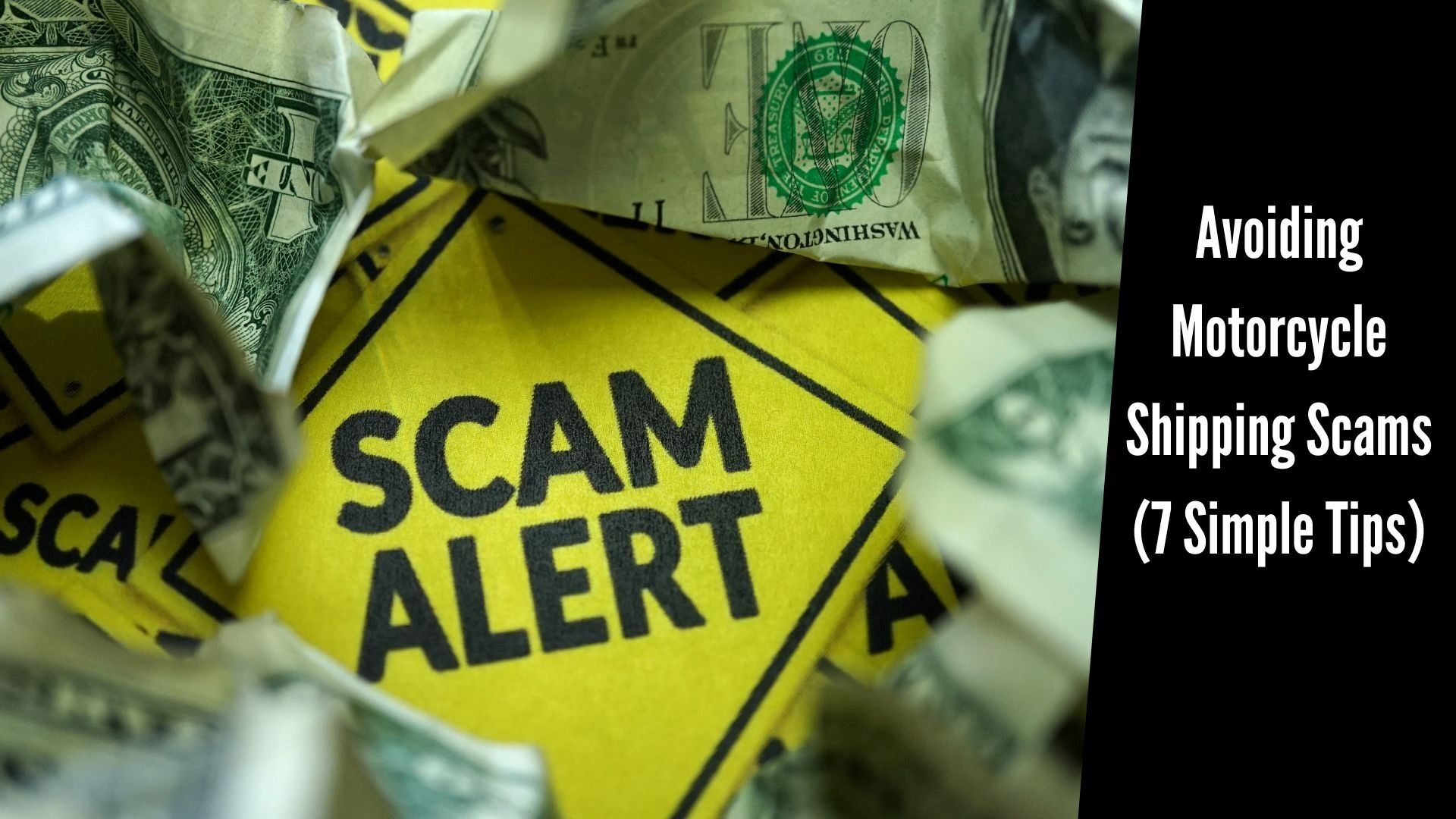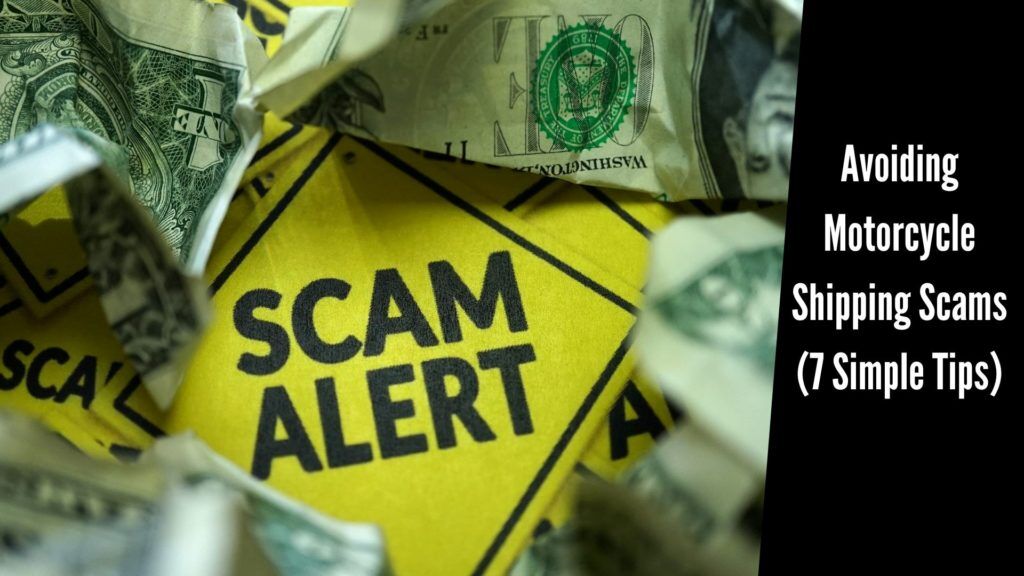 Avoiding Motorcycle Shipping Scams (7 Simple Tips)
Motorcycle shipping can be an exciting and hassle-free experience, or it can be a costly and frustrating experience if you're not aware of the cheap tactics used by scammers to rob you of your money.
If you're planning on shipping a motorcycle, it's important to be aware of the scams out there to avoid them. Here are the types of common scams and seven tips to help you avoid them.
5 Types of Scams Motorcycle Shipping Companies Do
There are many different types of scams that motorcycle shipping companies can do. Here are some of the most common:
Fake Websites
With the popularity of online shopping, there has been an increase in the number of scams involving fake websites. These scam artists will create a fake website that looks like a legitimate motorcycle shipping company. They will then take your money and run away, leaving you with no way to track them down.
You can do a few things to avoid being scammed by a fake website. First, ensure you only do business with companies with a physical address and phone number that you can verify. Second, be wary of any website asking for personal information upfront, such as your credit card or social security number.
Lead Aggregator Websites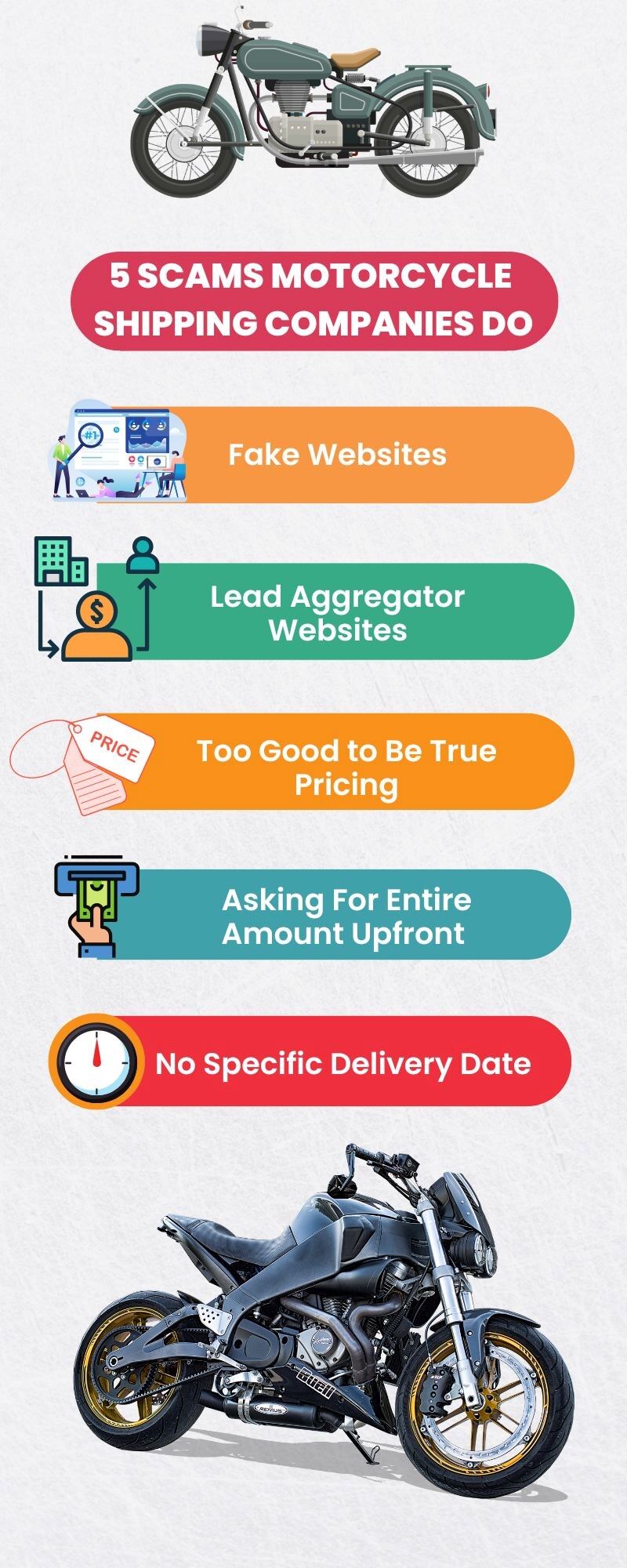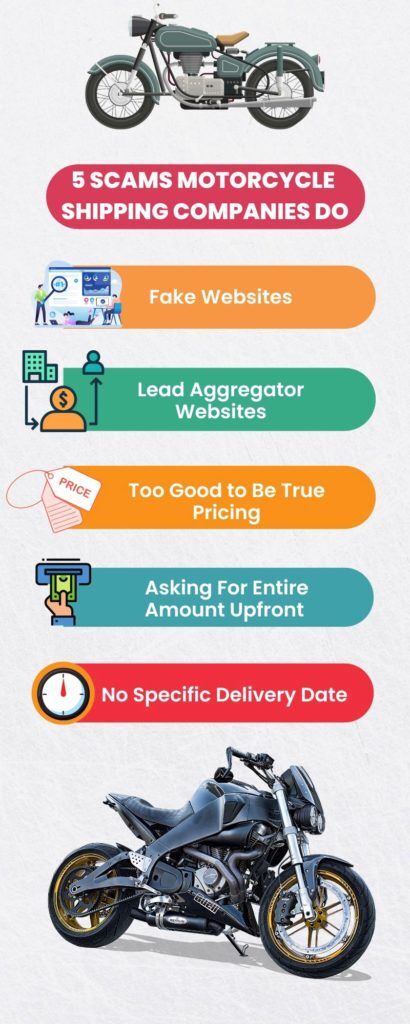 When you're shopping around for a motorcycle shipping company, you'll likely come across websites that act as a broker but are lead aggregators. These websites collect your information and then sell it to multiple shipping companies, who will then contact you with their quotes.
While there's nothing inherently wrong with using a lead aggregator if you're careful enough, you should keep a few things in mind.
First, you may end up getting bombarded with calls and emails from different shipping companies. This can be overwhelming and make it difficult to compare rates and services.
Second, the quotes you receive may not be completely accurate. The aggregators will only have a general idea of what your motorcycle weighs and how big it is, so their quotes may be based on estimates. When you get an in-person quote from a shipping company, they'll be able to give you a more accurate price.
Too Good to Be True Pricing
If something sounds too good to be true, then it probably is. If a company offers rates significantly below the average, it is likely a scam.
When you're looking for a motorcycle shipping company, be wary of any that quote you an unusually low price. It's likely that they'll hit you with hidden fees later on, which can end up costing you more money than you would have paid with a reputable company in the first place.
Asking For Entire Amount:
Another red flag is a company that requires you to pay for the entire shipping cost upfront. A legitimate business usually only requires a deposit, with the rest being due upon delivery.
Suppose a company insists on the full amount upfront. In that case, it's possible that they're not planning on actually delivering your motorcycle – so you could end up out of pocket and without your bike.
No Specific Delivery Date:
Finally, be careful of companies that don't want to give you a specific delivery date. A reputable shipping company will be able to give you an estimated delivery window based on their schedule and the distance the motorcycle has to travel.
If a company is vague about when they'll be able to get your bike to you, it's best to steer clear.
How to Ensure You Don't Get Scammed When Shipping Your Motorcycle:
1. Do your research
When considering shipping your motorcycle, the first step is to do your research. Many companies out there claim to be able to ship your bike, but not all of them are legitimate. The best way to find a reputable company is to ask around for recommendations from people you know who have shipped their motorcycles before. You can also check the online Google, BBB and BirdEye reviews to see what other customers have said about different companies.
Ask the shipping company for references from past customers. A reputable motorcycle transport company should be able to provide you with a list of happy customers.
Once you've narrowed down your options, take the time to call each company and ask questions about their services. Find out how long they've been in business, what kind of insurance they carry, and what their policy is for damaged or lost items. You should also ask about any hidden fees or charges that may not be immediately apparent.
Make sure to receive multiple quotes before choosing a shipping company. This will help you to get an idea of what a fair price should be.
2. Get everything in writing
Before you agree to work with any motorcycle shipping company, make sure you get everything in writing. This includes a detailed estimate of all costs, as well as the company's policies on things like insurance and damage claims.
Once you have the estimate, read it carefully to ensure that you understand the contract terms before signing anything. Be sure to ask about things like insurance and tracking so that you know what is included in your shipment.
3. Verify the company's credentials
It's important to verify that the company you're working with is legitimate and has the necessary credentials. Start by checking their website to see if they have a valid MC number (Motor Carrier number). This number is issued by the US Department of Transportation and is required for any company that ships motorcycles across state lines.
You should also check their profile with the Better Business Bureau to check if they have any complaints filed against them. And finally, look at Google Maps to see if they have a physical location you can visit. If they don't have any of these things, finding another company to work with is best.
4. Insure your motorcycle
In most cases, the shipping company will offer some form of insurance for your motorcycle while it's in their care. However, it's always a good idea to get your own insurance as well. This way, if something happens to your bike during shipping, you'll be covered. Be sure to read over the policy carefully, so you understand what is and isn't covered.
5. Track your motorcycle's progress
Most reputable shipping companies will offer tracking services so you can see where your motorcycle is at all times during transit. Knowing that your bike is safe and on its way to its destination will give you peace of mind.
6. Inspect your motorcycle when it arrives
When your motorcycle arrives at its destination, take the time to inspect it thoroughly for any damage that may have occurred during shipping. If you notice anything, be sure to document it so you can file a claim with the shipping company if necessary. Take plenty of photos as well for reference.
7. Read the fine print
Before you sign any contracts or agreements with a motorcycle shipping company, be sure to read all the fine print carefully. This includes any disclaimers or exceptions that could void their liability in the event of damage or loss. By understanding everything that is included in the agreement, you can be sure that you're protected in case something goes wrong during shipping.
Frequently Asked Questions:
What Are the Trusted Motorcycle Shipping Companies?
There are a few reputable motorcycle shipping companies that you can trust. These companies have years of experience transporting motorcycles and know how to take care of your bike during the journey. They will offer tracking services so you can monitor the progress of your bike, and they usually carry insurance in case something goes wrong. One of them is Easy Auto Ship, as we're licensed, insured and vetted by Better Business Bureau.
How Can I Safely Transport My Motorcycle?
There are a few things you can do to safely transport your motorcycle. First, ensure you have the proper paperwork and agreement with the shipping company. Second, be sure to inspect your bike thoroughly when it arrives at its destination. If there is any damage, document it and file a claim with the shipping company if necessary. And finally, read the fine print carefully before signing anything – this will ensure that you're fully protected in case something goes wrong during shipment.
How to File Claim With a Motorcycle Shipping Company If Your Motorcycle Arrives Damaged?
If possible, document everything that happened, including any damage to the bike and photos. You'll also want to make sure you have all of your paperwork in order, such as the agreement between yourself and the shipping company, including the Bill of Lading, if the bike was shipped on ocean freight. Provide these things to the motorcycle shipping company and work with them to ensure they pay the damages. Otherwise, you need to file a complaint on their BBB page and talk to an attorney to pursue legal action.
How to Track My Motorcycle When It's Being Shipped?
Many motorcycle shipping companies offer tracking services to monitor your bike's progress. This often includes updates on when the bike has arrived, is being unloaded and is on its way to its final destination. Ask them for the tracking number and the website address where you can use it to check for progress. Otherwise, get the number of the carrier moving the motorcycle and stay in contact with him.
Parting Words:
Yes, there are a lot of scammers out there in all industries but that doesn't mean we just give up on the legit ones as well. We've putlined the scams and ways to deal with them above so you should not have any problem finding the companies that are 100% legit. Best of luck with your motorcycle shipping journey.