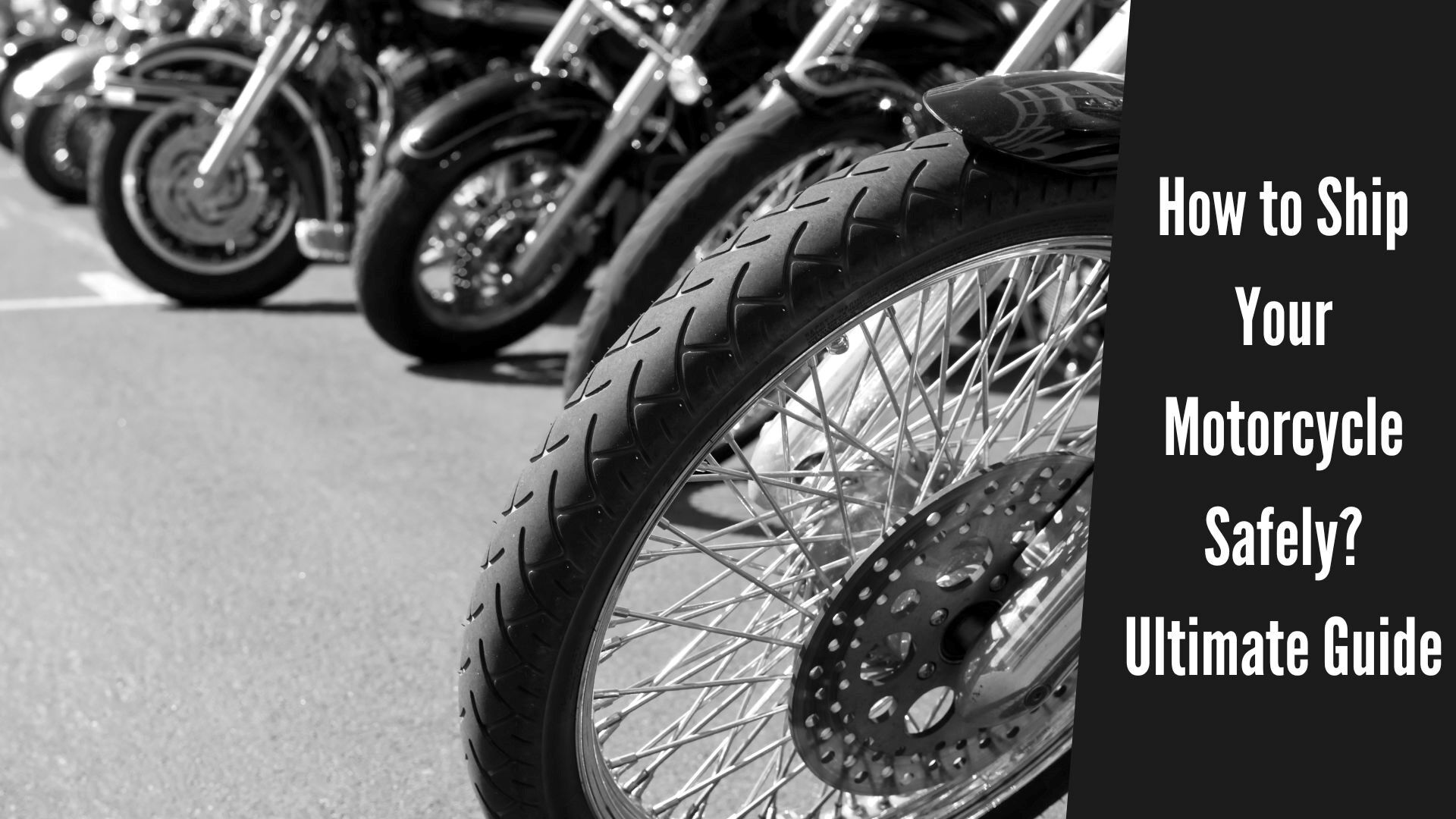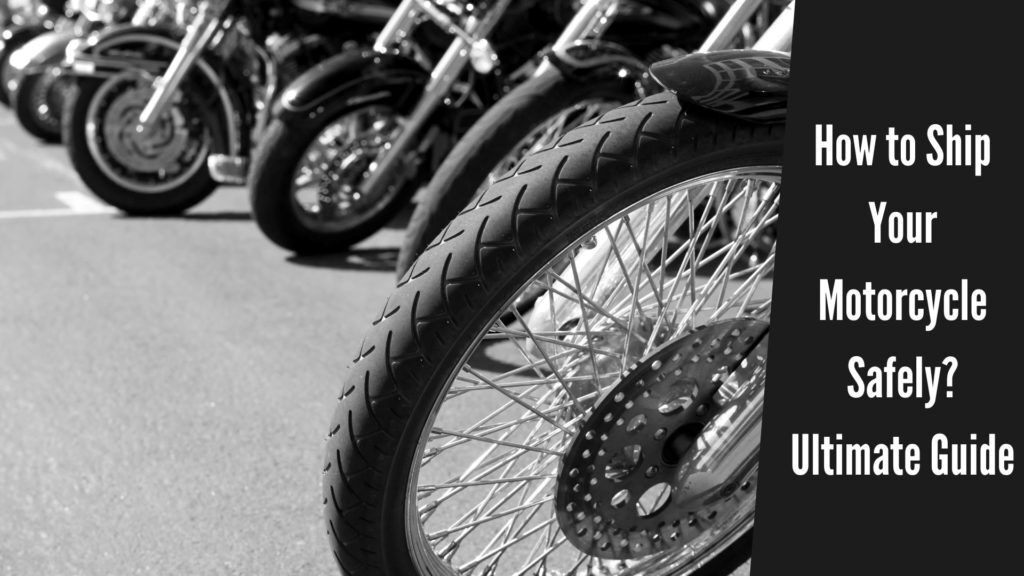 How to Ship Your Motorcycle Safely? Ultimate Guide
Want to ensure your motorcycle is safe when it's in transit? You're not alone! Motorcycle transport is a growing trend, and as such, there are a lot of people out there who are unaware of the proper ways to safely ship a motorcycle.
In this article, we'll provide you with an overview of the different methods that can be used to transport a motorcycle and explain which ones are the safest.
We'll also provide a few tips on how to prepare your bike for transport and answer any questions you may have. Ready to get started? Let's get riding (or shipping)!
How to Safely packing a motorcycle for transport?
Whether you're going across the country or just across town, you'll need to take some steps to ensure that your bike arrives safely at its destination, including:
Preparing The Motorcycle Before Pickup
Bring your motorcycle to a mechanic to have it checked out and serviced if necessary. This will help ensure that it's in good working condition and won't break down during transport.
Wash your motorcycle thoroughly. This will help protect it from dirt and debris while in transit.
Make sure all fluid levels are topped off, including engine oil, coolant, and brake fluid.
Remove any loose items from the motorcycle, such as saddlebags or fairings. These can be damaged during transport.
Safely Packing It At The Time of Pickup
When you're ready to have your motorcycle transported, the first step is ensuring that it's properly packaged for the journey.
You'll want to start by getting a pallet that's big enough to fit your bike. You can usually find these at your local hardware store.
Once you have the pallet, secure your bike to it using tension straps. Use tie-downs or ratchet straps to secure your motorcycle to the transport vehicle.
Make sure the straps are firm but not too tight, as you don't want to damage your bike during transport. This will help keep it stable during transit. Next, unscrew any fragile parts like lights, side mirrors, and indicators. These should be packed separately from the rest of the bike to avoid damage.
Finally, ensure all fluids are topped off, and there's no loose debris in or around the bike. Once everything is in place, your motorcycle will be ready for transport.
Tip: Invest in a good quality motorcycle cover. This will protect your bike from the elements and also deter thieves.
Transportation modes available for motorcycle transport: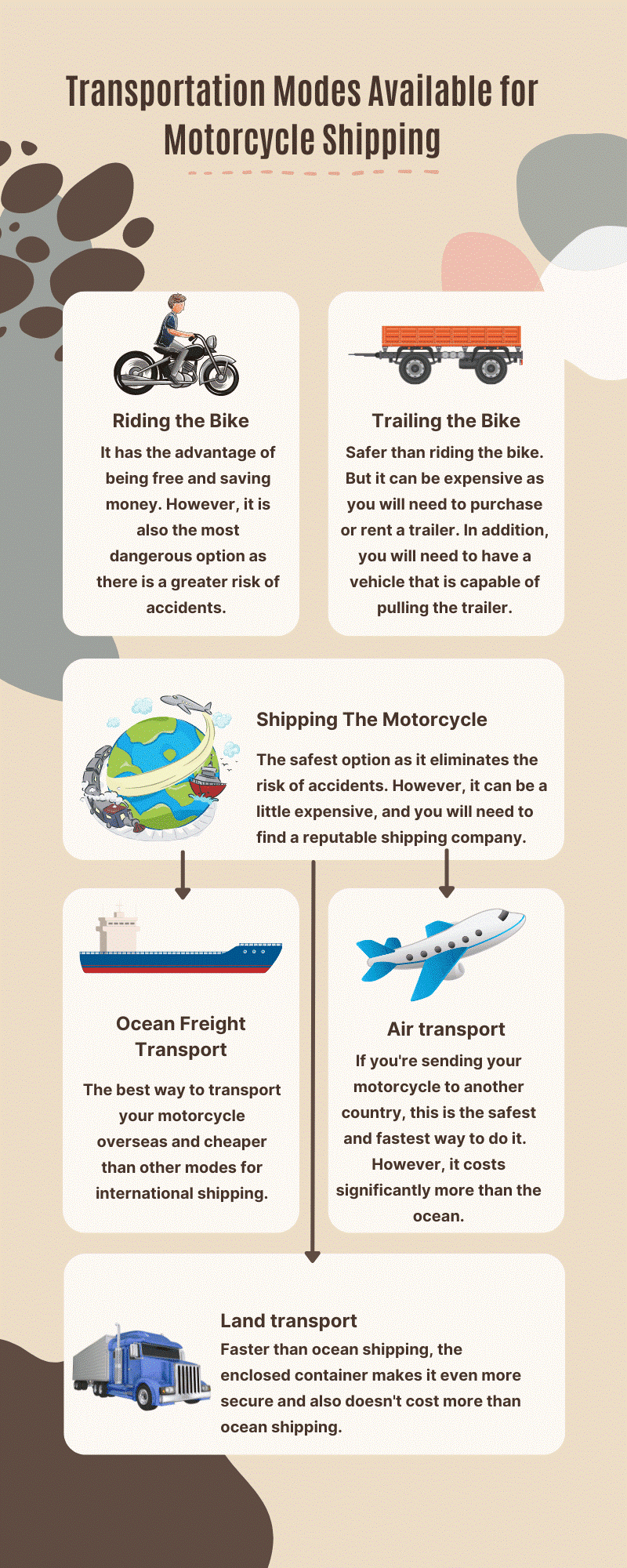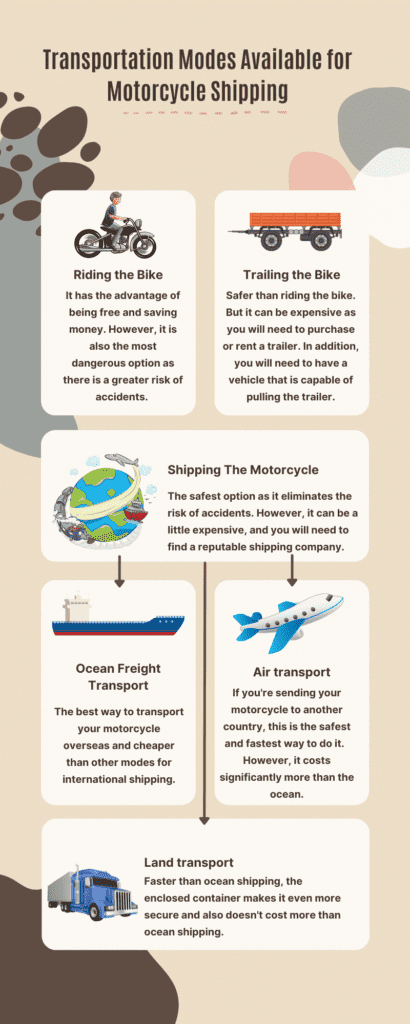 There are different modes that you can use to transport your motorcycle. You can either ride it, trailer it, or ship it. Each option has its own set of advantages and disadvantages that you will want to take into consideration before making a decision.
Riding your motorcycle is the most obvious option, and it has the advantage of being free. However, it is also the most dangerous option as there is a greater risk of accidents. If you are going to ride your motorcycle, make sure you are familiar with the route and have a good understanding of traffic laws.
Trailing your motorcycle is another option, and it is significantly safer than riding the bike. However, it can be expensive as you will need to purchase or rent a trailer. In addition, you will need to have a vehicle that is capable of pulling the trailer.
Shipping your motorcycle is the safest option as it eliminates the risk of accidents. However, it can be expensive, and you will need to find a reputable shipping company. In addition, you will need to ensure that your motorcycle is properly packaged so it does not get damaged during transit.
Some motorcycle shipping options include:
Ocean Freight Transport
If you're looking for a way to transport your motorcycle overseas, ocean freight transport is a great option. You'll need to remember some things when shipping your motorcycle by ocean freight, but with a little planning, you can make the process go smoothly.
Firstly, consider how you'll get your motorcycle to the port. You'll either need to trailer your motorcycle to the port, or you can have it transported by truck. If you're going to trailer your motorcycle, be sure to check with the port beforehand to see if there are any special requirements or regulations.
Once you've got your motorcycle at the port, you'll need to crate it for transport. This is important for protecting your motorcycle from damage during transit. You can either purchase a crate specifically designed for shipping motorcycles, or you can build your own. If you choose to build your own crate, be sure that it is sturdy and large enough to fit your motorcycle without being too tight.
Once your motorcycle is crated, you'll need to fill out some paperwork for the shipping company. This paperwork will include information about your motorcycle and your contact information. Be sure the paperwork is accurate, as this will be used to generate the Bill of Lading.
Once your motorcycle is loaded onto the ship, it will be out of your hands until it reaches its destination. Be sure to keep in touch with the shipping company so that you know when to expect your motorcycle. Once it arrives, you'll need to uncrate it and inspect it for any damage that may have occurred during transport.
Air transport
The most popular way to transport a motorcycle is by air. If you are sending your motorcycle to another country, this is the safest and fastest way to do it. You need to remember some important things when you ship your motorcycle by air.
First, you need to find a reputable shipping company that specializes in shipping motorcycles by air. Make sure they are licensed and insured. Get auto shipping quotes from several different motorcycle transport companies before you decide which one to use.
Next, you need to prepare your motorcycle for shipping. Remove all loose items from the bike, including the battery. Drain all the fluids and disconnect the electrical system. You will also need to disable the alarm system. This is necessary as fuel-carrying and electric equipment can be a safety hazard on the airplane.
When you are ready to ship your motorcycle, the shipping company will deliver it to the airport. They will then load it onto a cargo plane and fly it to its destination. Once it arrives, they will unload it and deliver it to you.
Land transport:
If you're planning on transporting your motorcycle on land using an auto shipping trailer, we suggest going for an enclosed one if the bike is expensive. It will offer better protection than any other mode of transport. Some important considerations for a safe and successful trip include:
First, make sure your motorcycle is properly secured to the trailer. You'll want to use straps or chains designed specifically for motorcycle transport, and secure them to sturdy points on the bike's frame.
Next, when loading the bike onto the trailer, take care to avoid damage to the bike or the trailer. Use ramps designed for motorcycle loading, and avoid scraping the bike against the edges of the trailer. Once the bike is securely loaded, ensure all tie-downs are snug and secure.
How much does motorcycle transport cost?
Motorcycle towing and transport services are not cheap. The average cost of having a motorcycle transported is between $200 and $900. This price range will depend on the motorcycle's size, the transport's distance, and the company you use. Usually, the cost ranges from $0.35 to $0.70 depending on the distance.
| | | |
| --- | --- | --- |
| Miles | Cost | Transport Type |
| 500 Miles | $200 | Open |
| 1,000 Miles | $500 | Open |
| 1,500 Miles | $700 | Open |
How can a motorcycle transport company help?
Shipping your motorcycle with a professional transport company is often the best option because they have the experience and the right equipment to do the job safely and securely. If something does go wrong, you will be able to file a claim with their insurance. Here are a few ways they can help:
Convenient Pickup and Drop-off
You can't go wrong with car transport companies if you're looking for an efficient, convenient and affordable way to transport your motorcycle.
At Easy Auto Ship, we offer door-to-door pickup and drop-off service, so you don't have to stress over getting your bike to and from our facility.
We also have a wide network of service providers across the country, so we can usually accommodate even the tightest schedules.
Car Transport Companies Offer Safe loading and unloading of motorcycles
Most car transport companies that offer motorcycle transport services have specially trained staff who know how to safely load and unload motorcycles onto the trailers. They also have the right equipment to do so, which means there's less chance of something going wrong.
Transporting your motorcycle with a car transport company is also much quicker and easier than doing it yourself. You won't have to load and unload your bike on your own or secure it onto the trailer. All you need to do is drop it off at the pick-up point and then collect it at your destination.
So, if you want a safe and convenient way to transport your motorcycle, then using a car transport company is definitely the way to go.
Car Transport Companies Protect your bike during transport
Car transport companies will typically ship your motorcycle in an enclosed trailer. This offers the best protection from the elements and potential road debris. Enclosed trailers also help to prevent theft. Be sure to ask about the type of trailer that will be used for shipping your motorcycle.
In addition to using an enclosed trailer, car transport companies will take other steps to protect your motorcycle during transport. For example, they may secure your bike to the trailer with straps or tie-downs. They may also use special padding or blankets to cushion your bike and prevent it from shifting during transit.
Car Transport Companies Have Cargo Insurance
Most car transport companies will have what's known as cargo insurance. This covers the actual vehicle or items being transported, and in the case of a motorcycle, it would cover your bike. However, it's important to note that cargo insurance does not cover any damage that might occur to the actual transport truck or trailer. So, you would not be covered if your motorcycle was damaged in transit due to an accident involving the truck or trailer.
Secondly, it's important to make sure that you're aware of the coverage limits for cargo insurance. In most cases, the coverage limit will be based on the value of your motorcycle. So, if your bike is worth $10,000, then the coverage limit would likely be $10,000 as well. However, some car transport companies have higher coverage limits, so it's always worth checking with them to see what their limits are.
Lastly, it's important to understand that even with cargo insurance, there may still be some things that are not covered, like most policies will not cover damage caused by weather or road conditions. So, you would not be covered if your motorcycle was damaged due to severe weather conditions or poor road conditions. Additionally, most policies will exclude any damage caused by you or someone else while loading or unloading the motorcycle onto the transport truck or trailer.
Ultimately, while car transport companies do have cargo insurance, it's important to understand the coverage limits and exclusions before assuming that your motorcycle will be fully covered.
Frequently Asked Questions:
What is the cheapest way to transport a motorcycle?
Depending on the distance, open carrier shipping or ocean shipping is the cheapest way to ship a motorcycle.
Furthermore, you can try using a cargo transport company offering discounted motorcycle shipping rates. Alternatively, you can negotiate with the shipping company and see if they reduce the price.
How much does it cost to ship a motorcycle 1000 miles?
Cost is based on distance, size/weight of motorcycle and carrier. Price can range from $500-$700 for 1000 miles.
How can I ship my motorcycle to another state?
You'll need to consult with a motorcycle transport company that specializes in moving motorcycles across state lines.
These companies typically have experience and know the best routes and procedures for shipping motorcycles. Easy Auto Ship is known to be the best motorcycle shipping company in different states. Contact us to know more.
Parting Words:
If you're not sure whether its safer and cheaper to ship the motorcycle or ride it to the destination then give us a call. We can help you decide what you should do and in case you want to ship it, we can help with transportation mode selection.