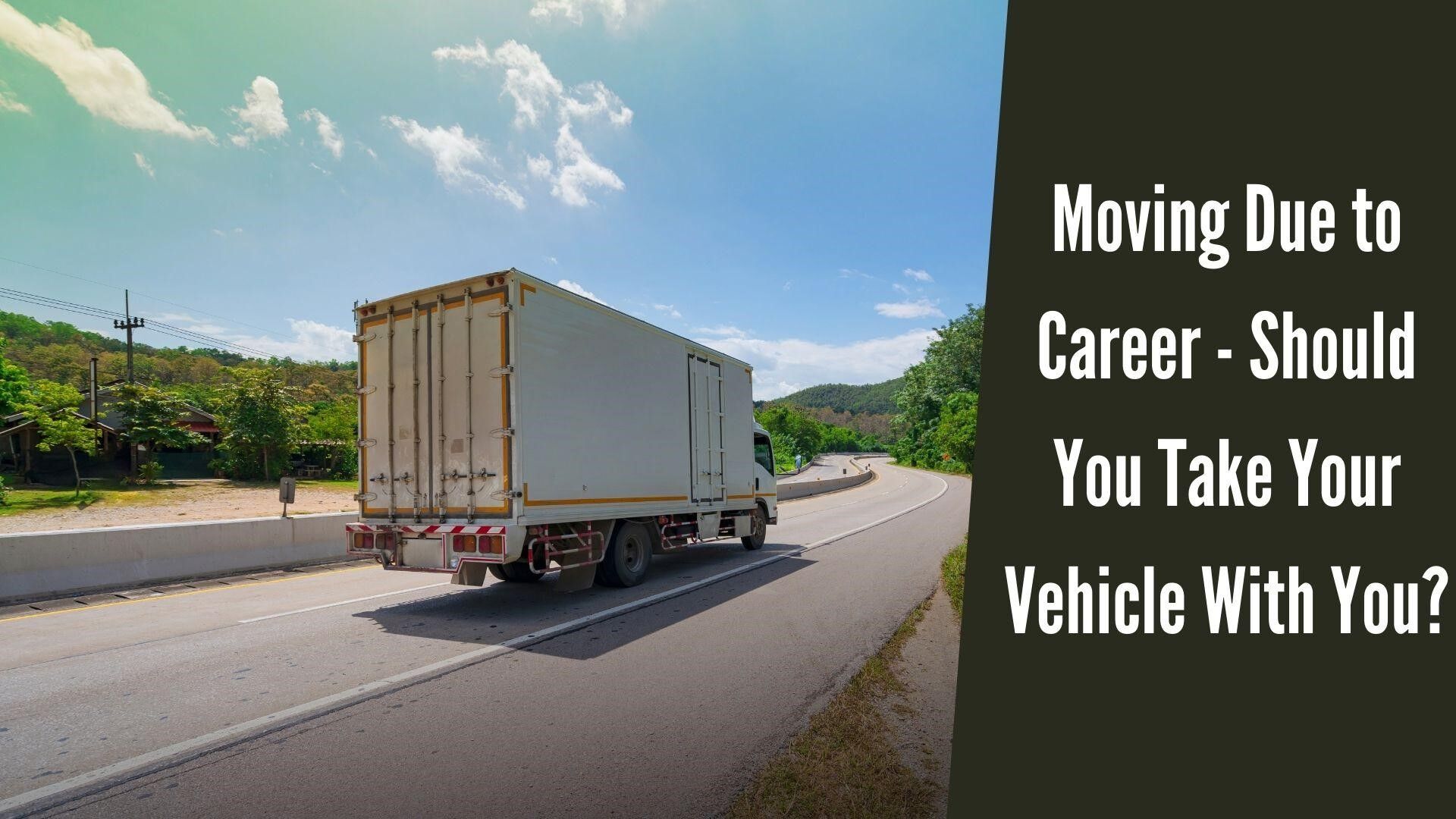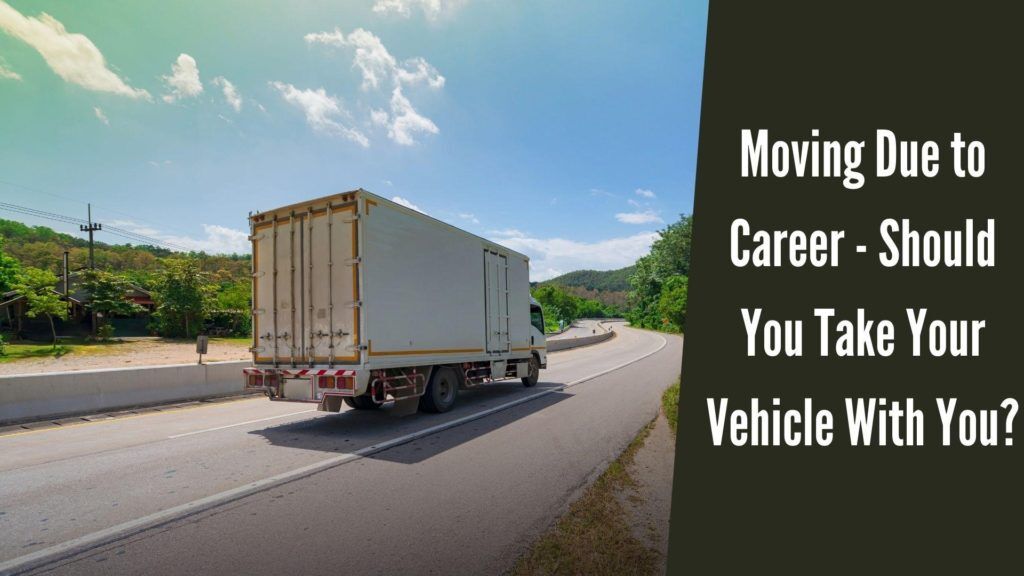 Moving Due to Career – Should You Take Your Vehicle With You?
Moving due to career but can't decide whether to take or ditch your car? Read on to find out the benefits and drawbacks of taking your vehicle with you when you move to another place.
If you're considering a move due to a new career, it might be a good idea to think about whether or not you should take your car with you. After all, if you have to relocate, it might be a hassle to find a new car and use a public commute until then.
There are some benefits and drawbacks to taking your car with you when you move, so it's important to weigh the various pros and cons before making a decision. So read till the end to make a well-informed decision:
Benefits of Taking Your Car With You:
Buying a New Vehicle Can Cost More Money:
If you are planning on ditching your old car to a dealership back in your hometown and buying a new ride in your new city, it may or may not be a good idea. You see, car prices are continuously on the rise, with over $5,000 higher prices on average in 2022 compared to 2021. So you will definitely have to pay a higher price even if you go for the same make and model that you had back in your previous city. The question is, why pay thousands of dollars extra when you can just spend a few hundred to get a car shipping company to move your current car?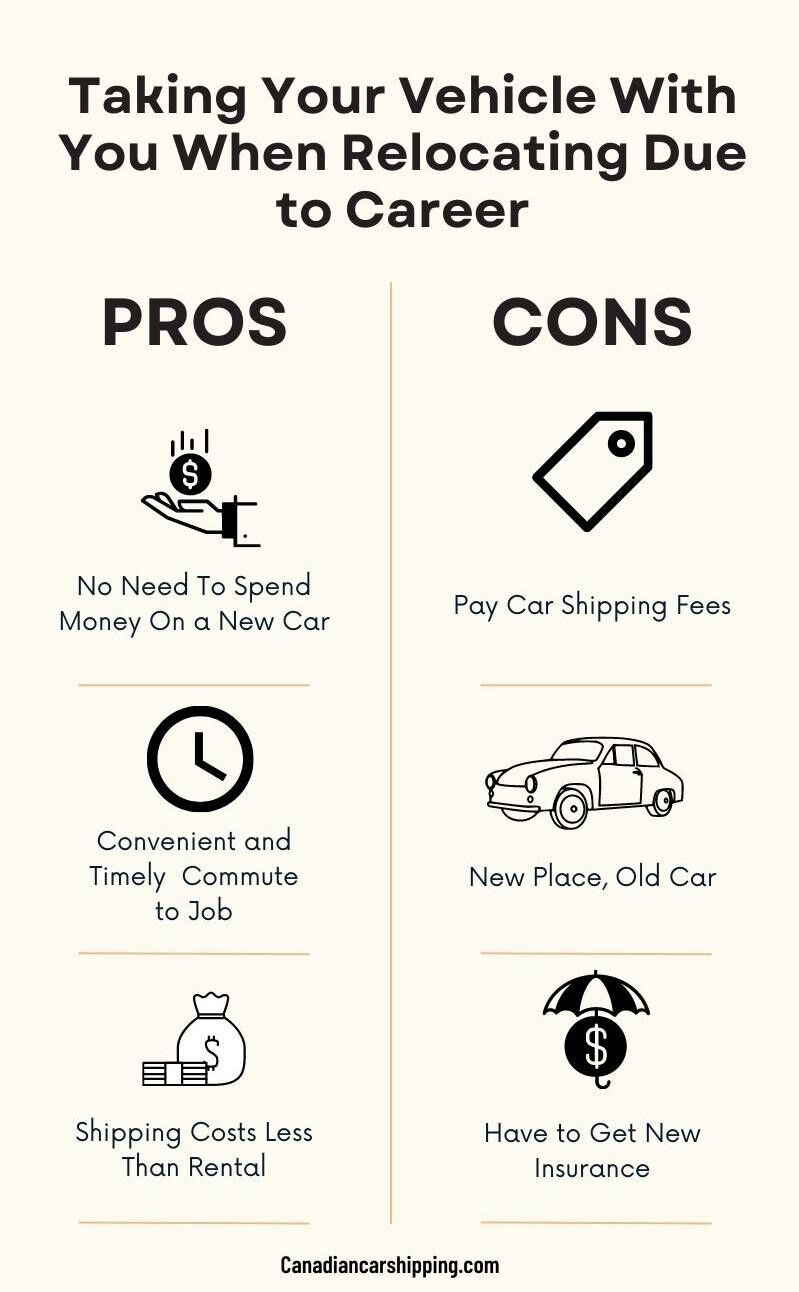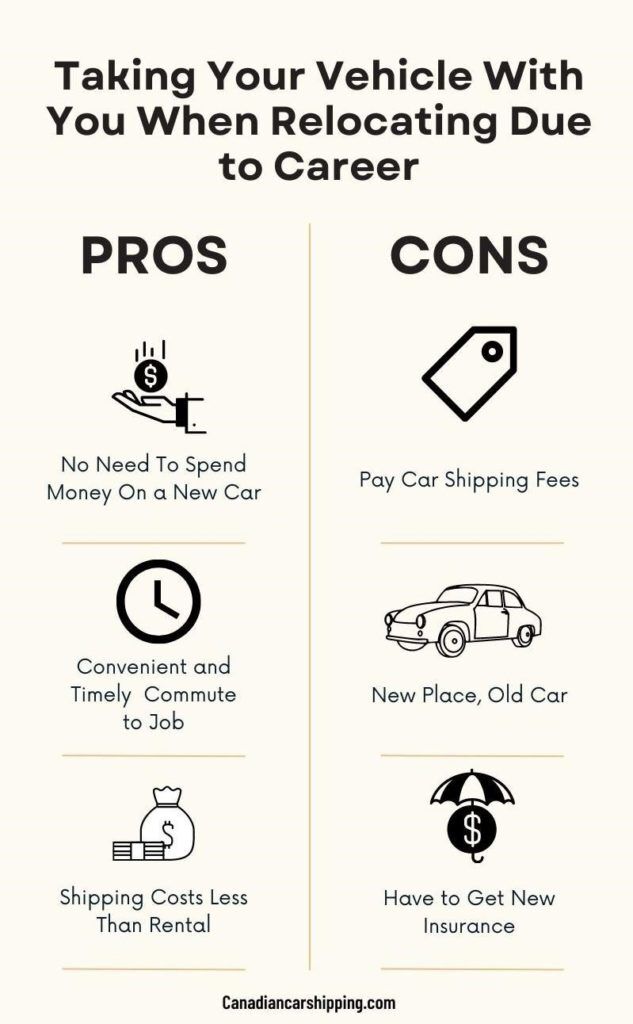 You Need to Commute to Job:
Since you'll be new to the job, making a good first impression is all that you should be thinking about. But if you don't have your own vehicle to get to the office, you can get late. Even if you rely on public transport, you cannot guarantee to arrive there on time. Having your own vehicle means you don't have to wait for the bus; just hop in and drive to the office on time.
Rental Can Be Expensive:
Whether it's going to the office or traveling around the city, you need to have your vehicle with you. You can use a rental vehicle but remember, it can be quite expensive. The cost can even surpass the cost of auto shipping.
Drawbacks of Taking Your Car With You:
Shipping Fee:
The cost to ship a car can be a few hundred to a few thousand dollars, depending on the total distance. Here's a small price chart to help you understand the cost of shipping a car to different distances in miles:
| | |
| --- | --- |
| No. of Miles | Estimated Cost |
| 300-500 | $500-$700 |
| 500-1000 | $750-$1000 |
| 1000-1500 | $1000-$1200 |
| 1500-2500 | $1200-$1300+ |
Keep in mind that these costs are calculated based on the current high gas prices of 2022 in Canada. If the prices go down in the future, you can expect the shipping cost to reduce as well.
New Place, Same Old Car:
You may be tempted to have everything new at your new place, including a new car, to truly start fresh. So moving your old vehicle with you may not seem like a good idea. It might be an eyesore for you to see the same years old car parked outside your new house.
New Insurance:
Depending on your car insurance policy's area of coverage, your vehicle may not be covered in the new city. So you will have to get a new insurance policy in the new place. However, you'll may have to do this if you buy a new car.
Auto Transport vs. Buying a New Car vs. Using a Rental Cost Comparison:
Auto transport is relatively cheaper than buying a new car or renting one for some time until you have your commute problems sorted in the new place. Yes, a car shipping quote worth hundreds or even a few thousand dollars may seem like a lot.
However, if you compare it with the rental and buying a new car in terms of convenience, time savings, and cost, moving your old car is WAY BETTER! Here's a comparison table to help you understand better: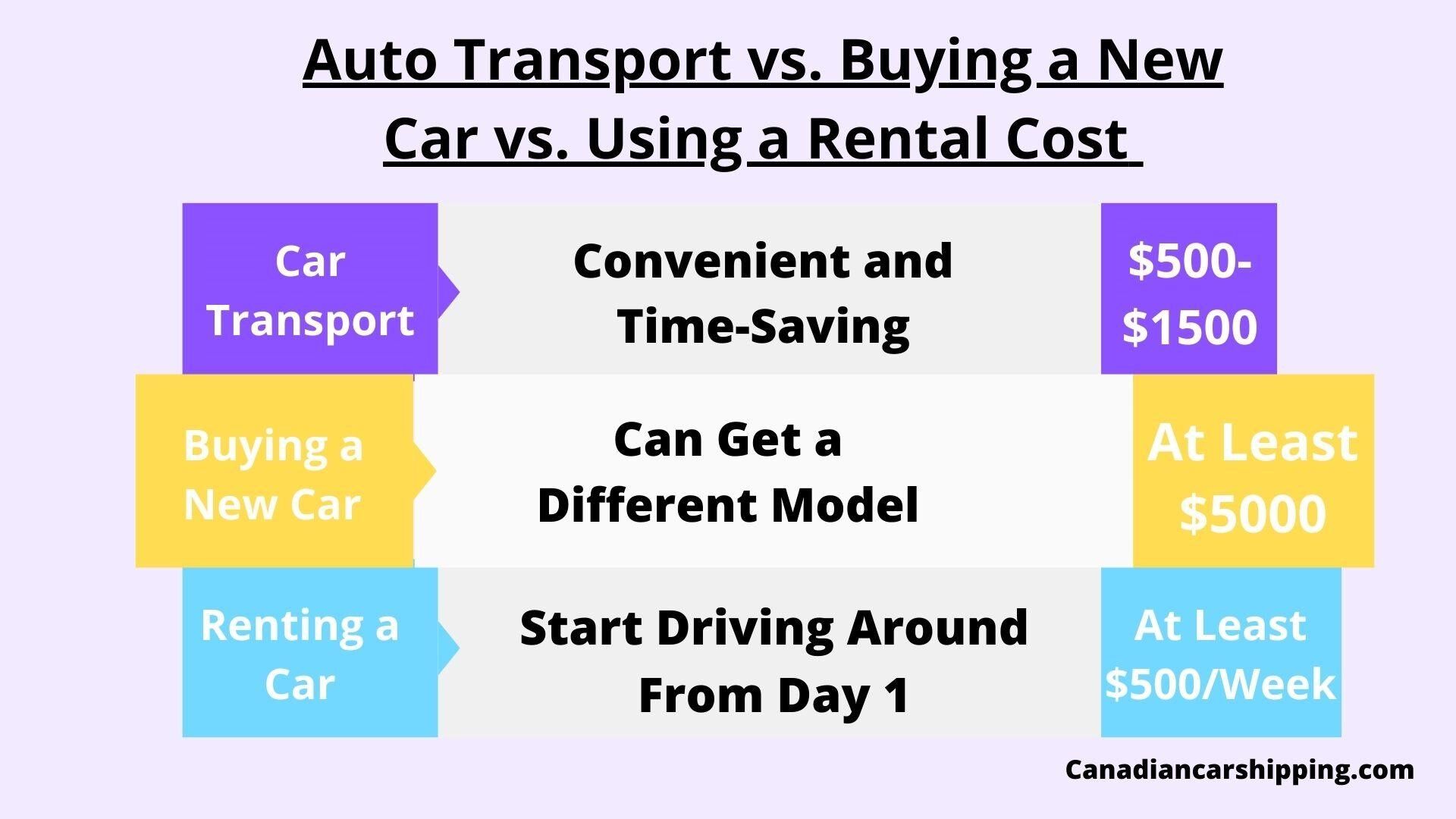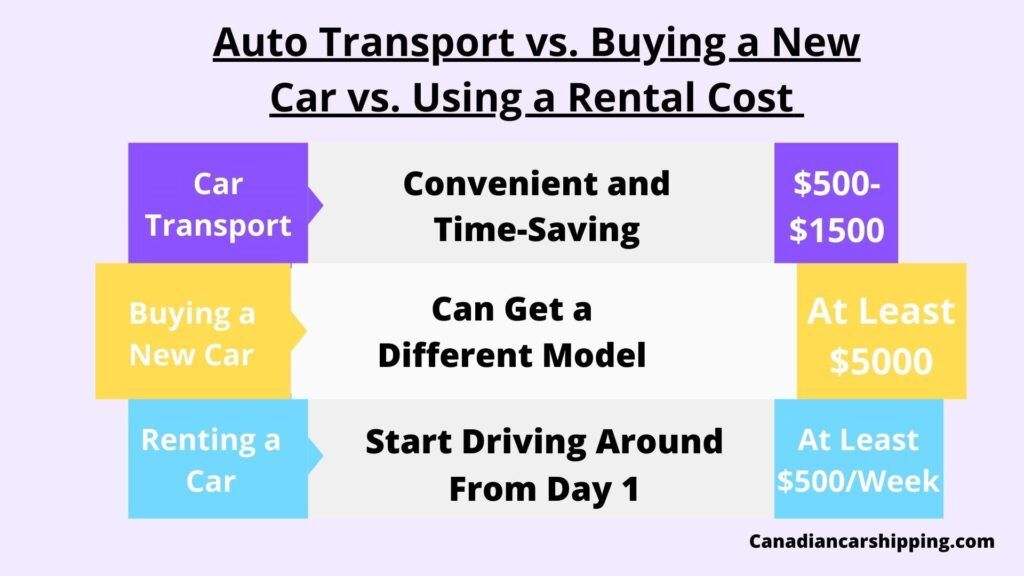 The cost to ship a car varies from $500 to $1500 depending on the location, buying a new car needs at least $5000 more if you get the same model as prices have increased by $5k from 2021. Furthermore, if you rent a car, then it's over $500/ week with a cost of $81/day.
Tips to Prepare Your Vehicle For Shipping When Moving:
Have a Mechanic Check It: If you have to ship your vehicle, make sure to have it looked at by a mechanic to make sure everything is in working order. If you are shipping your vehicle from a different state, you might want to have it inspected before you leave, just to be safe. A mechanic can check your engine, transmission, brakes, suspension, and steering system and make sure everything is working fine.
Pack It Carefully: Make sure that all of your personal items are packed carefully and securely. If you have many belongings worth a lot of money, make sure that they are packed so that they won't get damaged in transit. You might want to get professional packing help for this. Keep in mind that these personal items are not covered under cargo insurance as that policy only covers the vehicle and nothing else.
Have Your Vehicle Washed: Make sure to have your vehicle washed before you move. If you aren't moving for a while, you might want to consider having the vehicle detailed as well. This will ensure that you don't have any extra dirt or dust on the exterior of your car.
Tires Should Be In Good Condition: When you move, it's important that you check your tires and make sure that they are in good shape with sufficient pressure. If you are moving across the country, make sure to check that they are properly inflated. This way, if you have to drive for a long distance, you'll be able to safely do so without having to worry about flat tires.
Check Your Brakes and Battery: Make sure that your vehicle's brakes are working properly. If you have any problems with brakes, you should probably have them checked before you go. A mechanic can also check your fluid levels, make sure that the battery is in good condition, and give you a check-up to make sure that your vehicle's engine is running smoothly.
Should You Use The Same Company to Move Your Car and Other Stuff?
If you are moving to a new place for a job, you may get a relocation package from the moving company. Depending on how comprehensive and costly it is, you may get the following things:
Moving service from your old to a new place
Packing and unpacking your stuff
Temporary locker for storing your stuff
House hunting trip to the new place
They may or may not offer a car transport service as a part of the package, but you need to keep one thing in mind, they're experts at moving household items and furniture, not vehicles.
To move cars, you need special haulers, ramps, car straps, and other equipment, along with experience in dealing with all kinds of vehicles. General moving companies might not have that kind of equipment and expertise. Therefore, it is better to go for a professional car shipping service provider to ensure the safety of your car and timely delivery.
Frequently Asked Questions:
Can I put personal items in the car when shipping it?
Yes, you can put up to 100lbs of personal items in the car when shipping it. However, we don't encourage this because your items won't be covered with the auto transport service's cargo insurance as it's only limited to covering your vehicle. So if they get lost or damaged, you won't get any compensation.
Can I Drive My Car Instead of Using Auto Shipping?
Yes, you can drive the vehicle instead of shipping it but remember, it can also cost you a fair amount of money and significant wear and tear on your vehicle. Plus, it will rack up hundreds of miles on your vehicle, decreasing its financial value. Read this guide to understand why shipping is better than driving.
What's the Best Time to Hire Moving and Auto Transport Services?
Autumn and Fall are the best seasons because the auto transport and moving companies experience low demand as most people are busy with their offices, schools, and other stuff. You can expect lower prices and faster deliveries. However, if you cannot wait that long, make sure to ship your vehicle and move your items on working days, preferably Monday, Tuesday, and Wednesday; prices are higher on weekends.
Canadian Car Shipping Can Help You Move Your Vehicle With Ease:
Moving is a big decision and can be daunting if you're not well-prepared. This blog discussed the advantages and drawbacks of taking your car with you when you move and provided a comparison table of different options to decide..
If you're still uncertain about what to do, we recommend speaking to a professional car transport company like Canadian Car Shipping. We specialize in moving vehicles nation-wide and across borders and can help you move your car with ease!