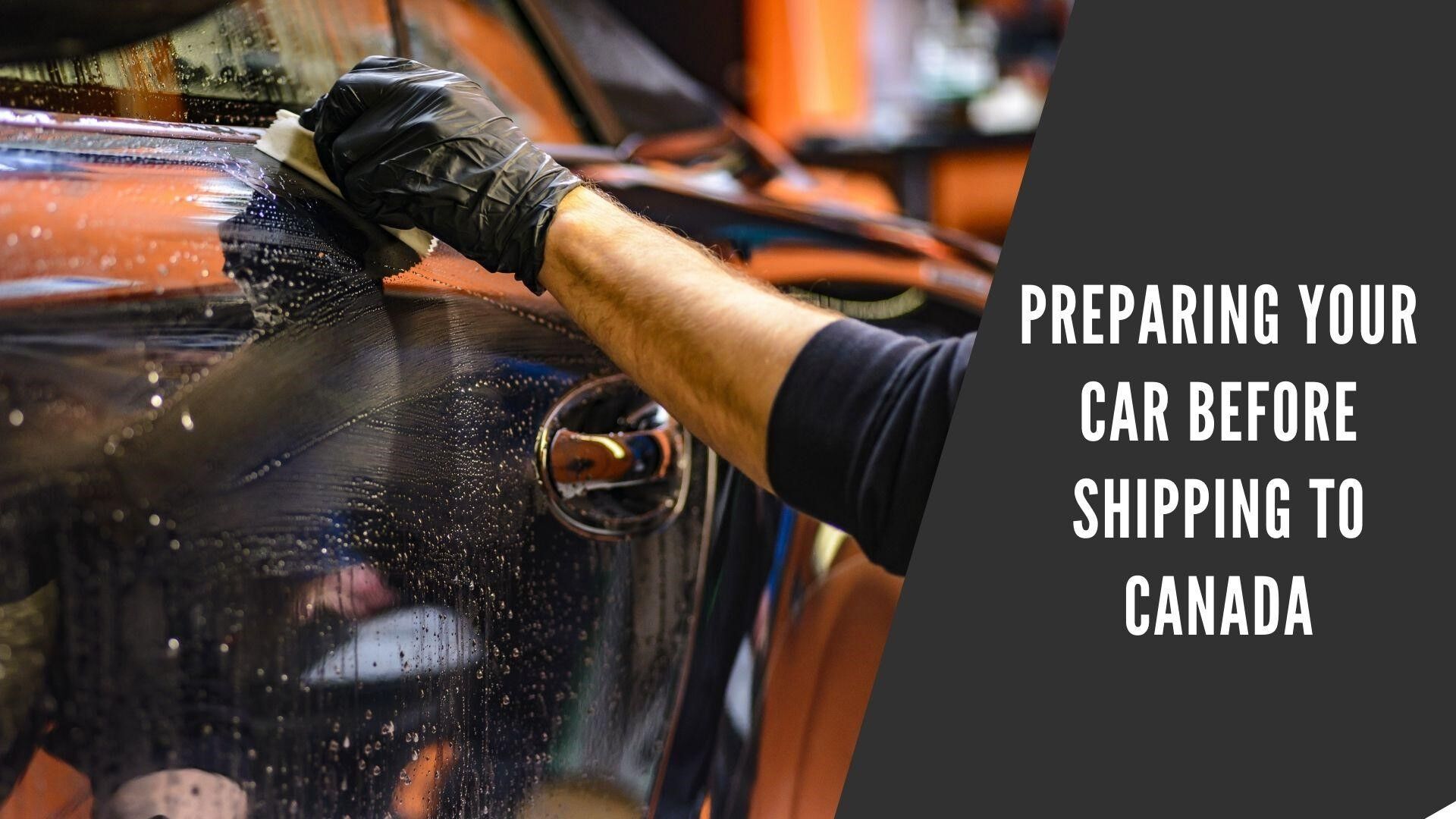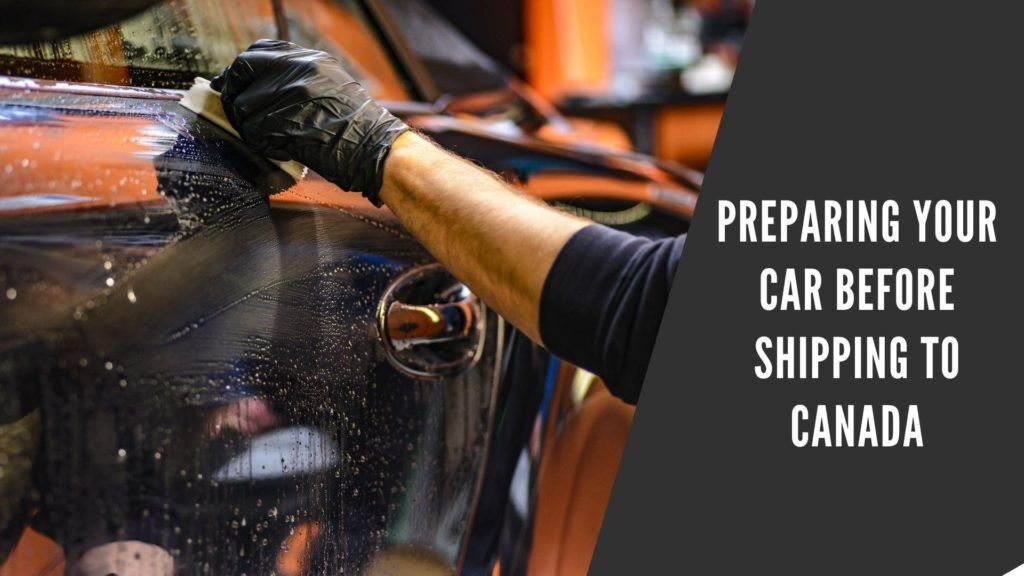 Preparing Your Vehicle for Cross-Border Shipping to Canada – [In-Depth Guide]
Are you planning to take your vehicle to Canada? It can be quite confusing if you're not sure what to do. Read this guide to learn how to prepare your vehicle and documents for cross-border shipping to Canada.
Shipping a vehicle up north is not as simple as you think. You need to get in touch with a shipping company that will ensure your vehicle reaches its destination safely and on time. This means that thorough preparation is imperative.
A lot of steps need to be taken before the day of shipping, which can be pretty frustrating if you don't know what you're doing. To make the process smooth and easy, we have compiled a list of what you need to do before shipping your vehicle to Canada.
Preparing the Documents:
The documents required for shipping vary from one country to another. If you are transporting your vehicle to Canada, you will need to complete some paperwork in advance to ensure your vehicle crosses the border smoothly. Here are the typically required documents when shipping a car to Canada.
The title of your vehicle (if you are not the owner, get an original signed certificate of vehicle title)
Recall clearance letter (If you're importing the car from the U.S)
The sale deed if you've just purchased it and moving to Canada
EPA label attached to the car
Proof of identification (passport, driver's license, or identity card)
The Manufacturer's certificate of origin if your vehicle is new. You need to send a copy of this document 72 hours prior to your car crossing the border, but since you're shipping the car using a Canadian car transport company, you just need to give this to them.
If you use a car transport company that is not acting as your customs broker, you need a shipper's letter of instruction. It will include information about your car and the transporter. Your customs broker will prepare it for you; you just need to read and sign it.
You will need an EIN or AES number (or ITN number) if you're exporting the car from the U.S and its value exceeds $2,500. Your broker or car transporter should be able to help you with this.
Proof of insurance coverage is also required if you want to avoid any hiccups or tickets during the shipping. Make sure to call your insurance company, provide them with the VIN# of your car, and request a fax or email with proof of your auto coverage.
Although your transporter will prepare the inspection report, make sure to keep a trucker's signed copy of the bill of lading with the inspection report with you. It will come in handy if the car gets damaged during transit.
Besides these, your car transporter may also ask you for temporary power of attorney for your car, which is a requirement by customs.
Preparing Your Car Before Shipping to Canada:
Before moving your car to Canada, there are some things like cleaning your vehicle, having it checked by a mechanic, preparing a set of keys, etc., that you need to do. Some are required by Canadian law, while some are precautionary measures to ensure smooth transport. Let's look at them below:
Wash and Cleaning the Car:
Canada Food Inspection Agency requires that no foreign contaminants like plants, mud, and other organic matter enter the country. For this, your vehicle might get quarantined for a few days for inspection and disinfection if required by Canadian customs.
To ensure your car is free from any of the contaminants, you should clean the car thoroughly and especially focus on these areas:
Tyres and wheels, including any spare wheel(s) and their housing
Around the mudguards and under wheel arches
Engine bay corners, cooling fan, and radiator. Make sure to check for any plant matter and insects.
Dashboard area corners, footrests, and under the seats
Be sure to disinfect the car thoroughly and leave no stone unturned from your side in cleaning the vehicle inside out. You cannot skip this step, whether you use any Canadian car shipping company or drive to Canada yourself.
Odometer Check:
If your vehicle doesn't meet the metric requirements of Canada, you might need to install a metric odometer and also add daytime running lights. Ask your transporter about this for clarification.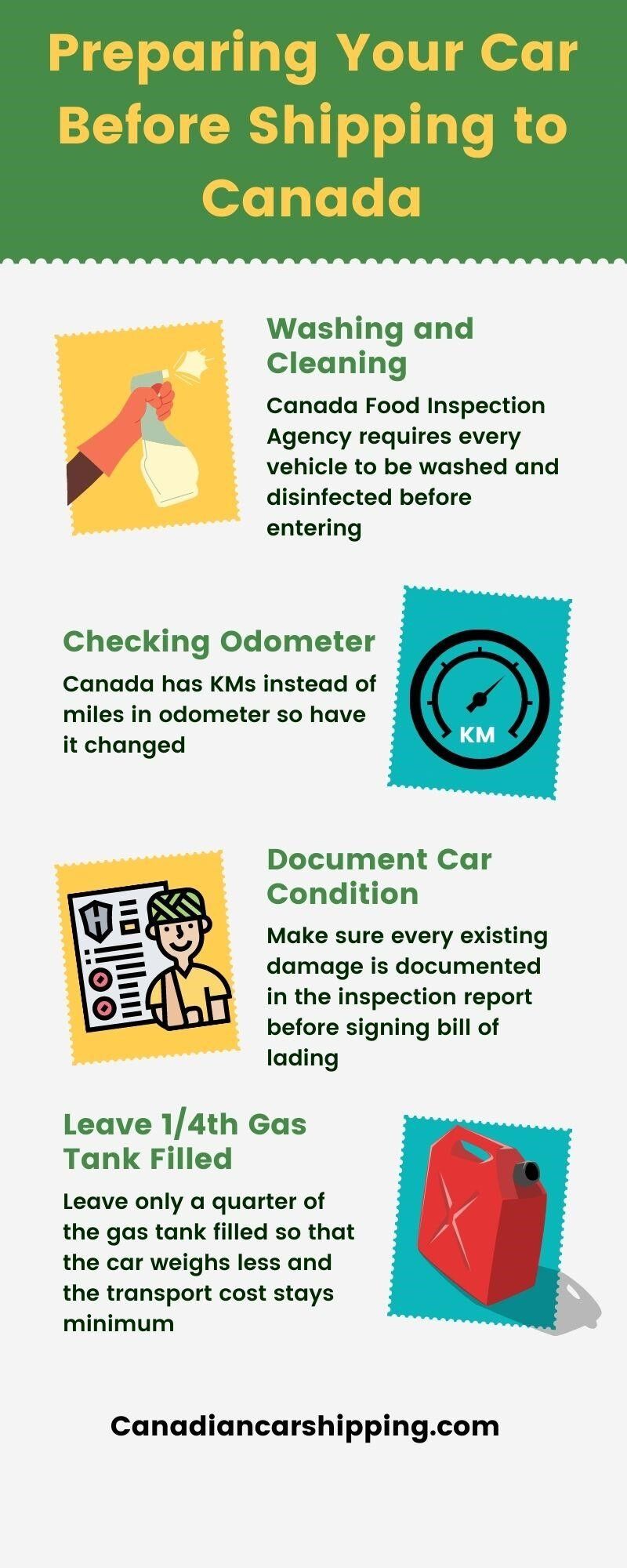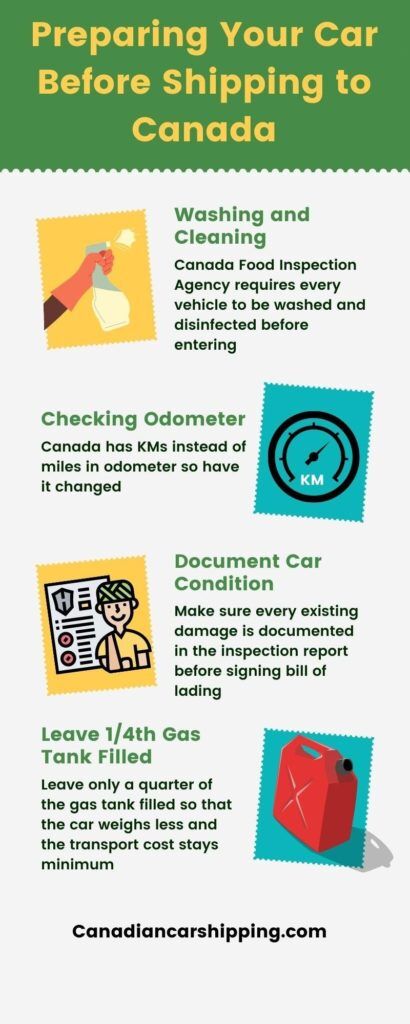 Remove Personal Belongings:
Every licensed Canadian car shipping company is insured to cover the vehicle in case of any damages. However, it doesn't cover any personal belongings their customers put inside. In case of theft or loss of these items, the transporter won't be able to do anything to recompensate you.
Therefore, make sure to take out anything, including clothes, documents, jewelry, chargers, and other items that are not part of the vehicle. Take out the GPS and radio and lock them inside the trunk as a precaution. Your vehicle can also be stopped for further inspection at the border if any personal items are found inside.
Document Vehicle's Condition:
Although the Bill of Lading should have an inspection report with your vehicle's condition documented, try to take pictures and videos for your own record. If the car transport company is not using the electronic bill of lading, the bill of lading can be tampered with, or it might get damaged, making it hard to find out the car's condition before transport.
So after washing your vehicle, take lots of pictures and make videos from every angle and cover every single existing damage like scratches, dents, paint chipping, and so on.
Have a Mechanic Check the Car:
Your car should be in running condition with all critical components functioning properly. There should be no leakages, loose parts, exposed wires, or other problems.
Ask a mechanic to look at your vehicle to ensure its battery, type pressure, and fluids are also topped up.
Prepare a Copy of Keys:
Your transporter might need t move the car around a few times during the transit to load and unload other vehicles or for customs border inspection. They should have a copy of the keys for the door and ignition locks.
Turn Off the Alarm:
The car alarm can go off during transport for any reason, and if that happens, it'll be a hassle for the transporter to pull over the trailer, climb the hauler and turn it off. So make sure to turn it off in advance.
Tip: Only leave a quarter tank of gas filled; this will reduce the vehicle's weight, which will decrease its transport cost.
Different Costs When Importing a Car to Canada
There are various costs involved when importing a car to Canada, and your Canadian car transport company would take care of these and provide you with a final quote. Still to give you an idea, here are some of the main costs:
| | |
| --- | --- |
| Costs | Amount |
| Import Duty | 6.1% for non-NAFTA vehicle – exception for NAFTA vehicles |
| GST | 5% of the vehicle's total value |
| PST | It varies from province to province |
| A.C. Tax | $100 for cars with air conditioning |
| Gas Guzzler Tax | Ranges from $1,000 to $4,000 depending on the car's mileage |
| RIV Fee | $325+GST and QST for Quebec Border – $325 +GST/HST for other provinces |
| ITN Cost | $50 to $120 depending on the AES filing service used |
| Safety & Emission Fee | It depends on the territory or province's safety program |
Frequently Asked Questions
What should I be doing before transporting my vehicle across the border?
As mentioned above, you should complete all the necessary paperwork and prepare the vehicle. Also, call your car shipping service provider and ask them for a list of everything they need to move the car.
Any other advice on how to prepare my vehicle for shipping cross-border to Canada?
Make sure to have your license plate, car jack, spare tire, and emergency kit inside the car so the transporter can quickly solve any legal or mechanical issues that may arrive during the transit.
How much will it cost to ship a car from the U.S. to Canada?
$700 to $2,000+ is the typical cost to ship a car from the U.S to Canada depending on various factors like total distance, car type, mode of transport, etc.
How long does it take for my vehicle to be inspected and processed by customs in Canada?
The process typically takes 1-2 days because the customs officers have to visit multiple sites to inspect and clear the vehicles. However, during high-traffic seasons like holidays, it can take longer than two days.
Can you stuff your car when you ship it?
Unfortunately no. The U.S customs policy doesn't allow this, and if you are shipping from another country to Canada, even then, it is greatly discouraged because the items can get seized on the Canadian border.
What are some steps to importing a car from the U.S. to Canada?
There are typically five main steps involved when importing a car from the U.S to Canada, and your transporter should take it all. However, if you're driving the car yourself, we have a detailed guide covering each step.
Canadian Car Shipping Can Help You With Cross-Border Shipping:
Whether you're shipping from the U.S or someplace else, Canadian Car Shipping can help you import the car into Canada hassle-free.
You won't have to deal with mountains of paperwork or get tangled with customs requirements and fees; we'll take care of it all.
Feel free to give us a ring at (800) 381-6907 or use our instant online quote calculator for free car shipping quotes.