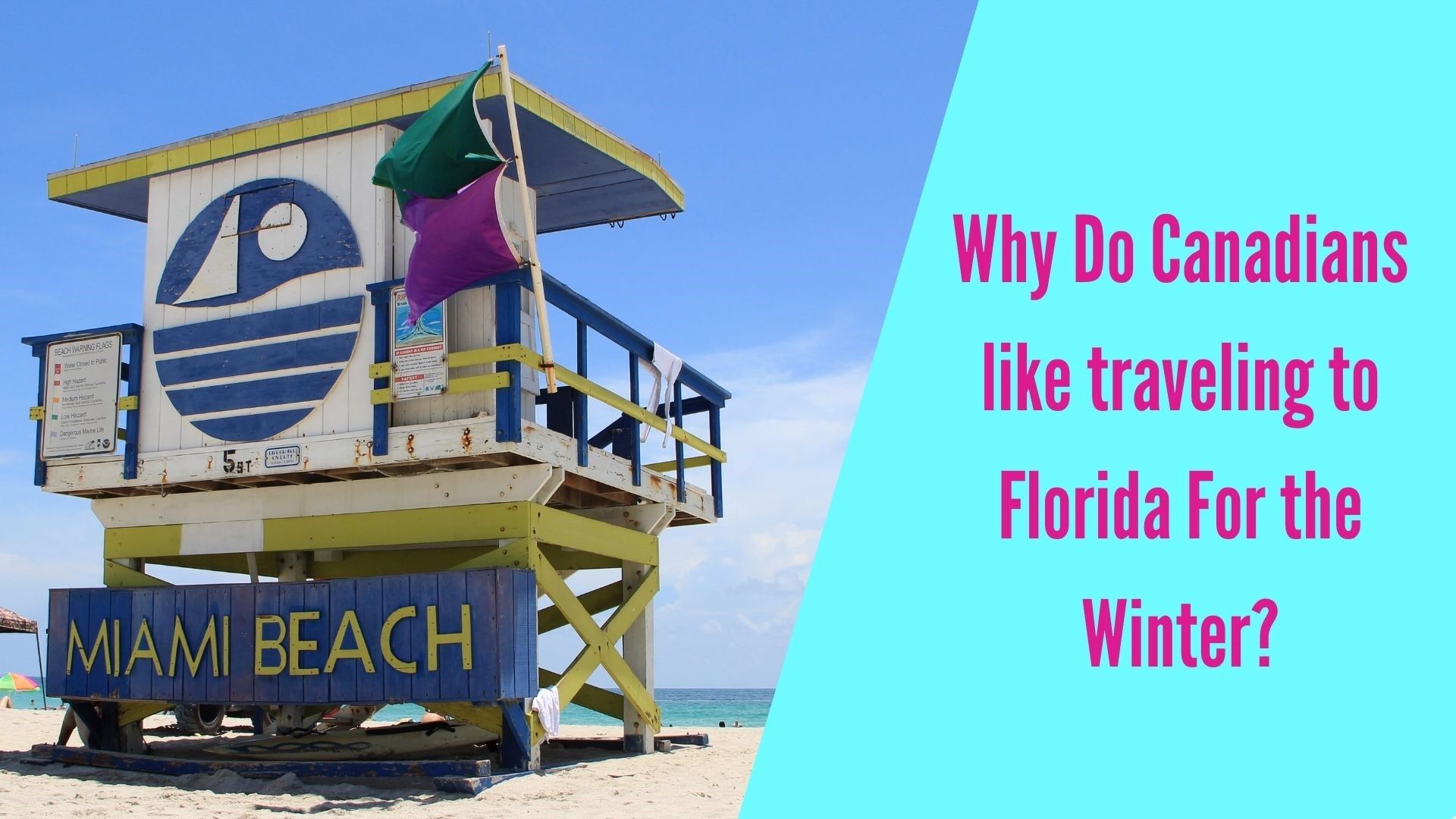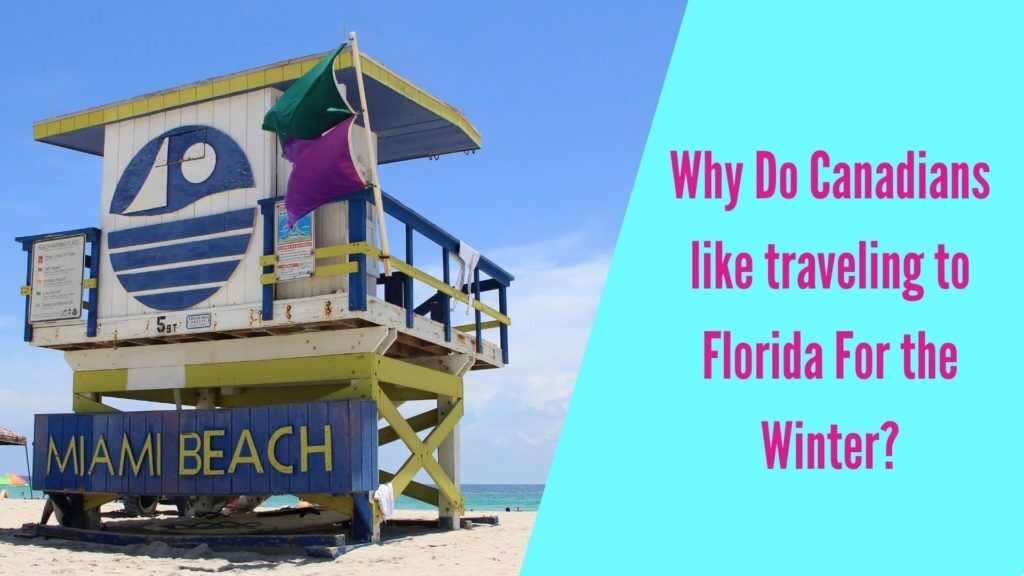 Why Do Canadians like traveling to Florida For the Winter?
Do you know why Canadians like to travel to Florida during the winter? This article will tell you the reasons and what you need to do before traveling to Florida in winter.
Americans have long been familiar with the wonders of the Sunshine State, but Canadians are starting to get the picture too. Why? Because Florida is now one of the most popular destinations for Canadians looking to travel during the winter.
And not just for the sunny days and warm weather – Canadians are also drawn to Florida's diverse culture and relaxed atmosphere. If you're thinking of going to Florida soon, now is the time to do it!
Why Do Canadians Like to Travel to Florida During the Winter?
The Great White North is among the most beautiful places to live, but when the winter comes, many flock to the south and come back at the start of summer. Here are a few reasons why:
To Escape Cold Temperatures:
The temperatures in Canada drop below 0 °C and go negative at the peak of winter. On the contrary, the temperatures in Florida stay in positive numbers. Here's a chart to show you different Canadian state temperatures in January:
| | | |
| --- | --- | --- |
| Area | January High °C | January Low °C |
| Alberton | -3.9 | -12.5 |
| Calgary | -0.9 | -13.2 |
| Churchill | -21.9 | -30.1 |
| Montreal | -5.3 | -14 |
| Ottawa | -5.8 | -14.8 |
| Princeton | -1.4 | -8.6 |
| Quebec City | -7.9 | -17.7 |
| Toronto | -1.5 | -9.4 |
Source: Wikipedia
As you can see, most Canadian cities have negative temperatures; some do maintain over 0 °C temperatures, like Victoria and Vancouver, but still, they are near 0 °C, so the environment is extremely cold. On the other hand, in Florida, the sunshine state maintains an average low of 18 °C (Key West) to 5 °C (Tallahassee) during the nighttime. And at day time, the temperature ranges from 18 °C (Tallahassee) to 25 °C (Miami).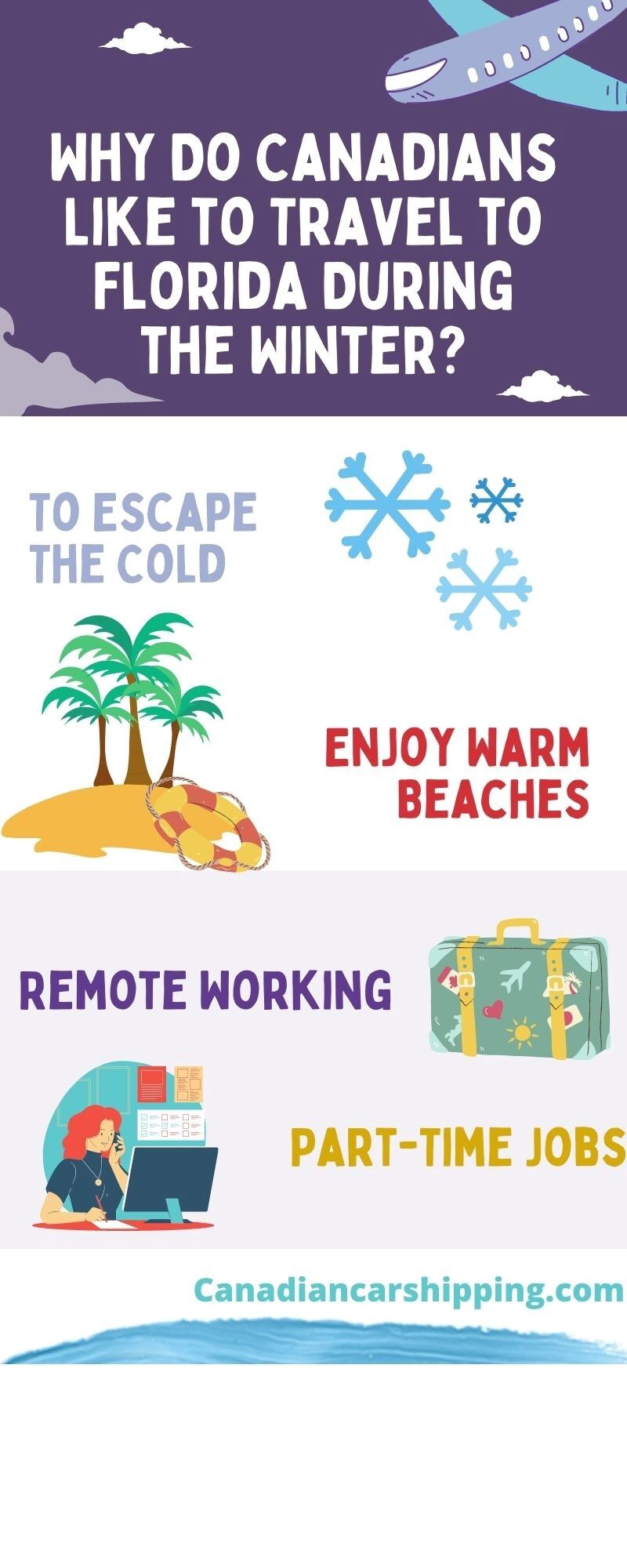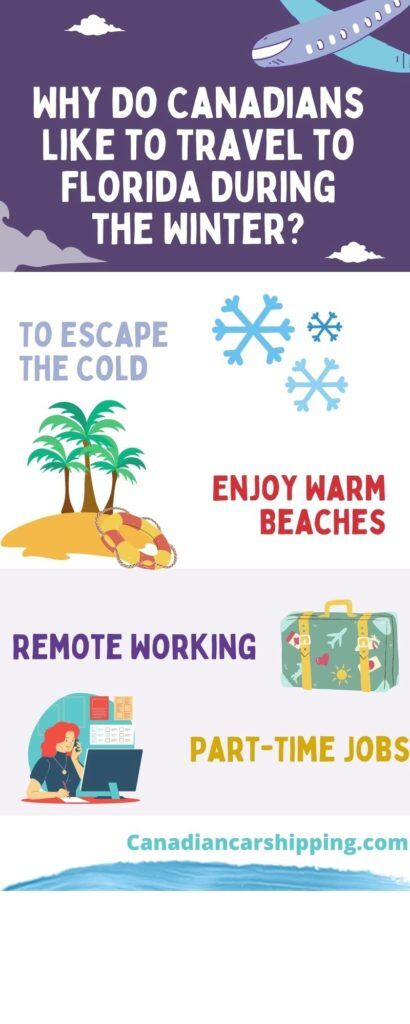 So to escape the harsh cold of Canadian regions, many elderly and retired people started moving to Florida. These people are also called Snowbirds as they migrate to the south during winters of every year.
To Enjoy Warm Beaches:
Some Canucks go to Florida only to enjoy the warm beaches of Miami. They know the temperature is going to be warmer for them compared to what they're experiencing in Canada.
So they pack their bags, take their beach shorts, maybe a surfboard, and arrive in Florida. There, they spend most of their mornings at the beach and nights wandering around, experiencing the nightlife of Florida.
To Live a Nomad Lifestyle:
There are many Canucks who are now working remotely, especially after the COVID lockdowns. So they are free to roam around the world with their laptops and work from anywhere. So many of them also flock to the south. They are sort of living a nomad lifestyle.
They enjoy hanging out in warmer temperatures instead of being locked into the rooms back in Canada due to bone-chilling cold
To Do Part-Time Jobs:
Some Canadian teenagers or even adults living close to the border temporarily move to Florida to make some living. Since winter is the tourist season for the sunshine state, hotels and restaurants are always busy, and they need extra staff to keep up with the workload.
So these people start working there temporarily to make some bucks and then head back to Canada with some savings after winter.
What's the Best Time to Go to Florida in Winter?
November to January are probably the best months to visit Florida if you're a Canadian. This is because the temperatures will not be as extremely high and also not too low, so coming from a cold area, you won't feel the intensity of heat; it will be perfectly balanced for you.
This is the best time for you to spend hanging out and exploring the outdoors of Florida. You can go on hikes, stay at the beach or just wander around in the urban area and enjoy the nightlife of Miami.
Do Canadians Bring Their Cars to Florida?
Yes, many Canadians bring their cars to Florida, and most of them are snowbirds. This is because they plan on staying there for a few months and spending that much time without transport of your own is inconvenient.
So, most snowbirds hire car transport service providers to move their vehicles to Florida. They do this because there driving thousands of miles to Florida by themselves is not easy, especially when there's snow on the roads. In fact, nearly 17% of car accidents occur snowy conditions.
Furthermore, driving such a long distance is also quite inconvenient. It can cause hip, neck, and/or shoulder pain and may spoil the fun of spending winters in Florida. Then there's also the customs clearance which can be quite a hassle.
So to avoid all of these problems, Canadians going to Florida typically hire car shipping services and safely move their vehicles to their place of stay in the Sunshine state.
How to Plan Your Trip to Florida During Winters?
Before you move to the south, you should do a few important things to ensure your trip becomes memorable and worry-free.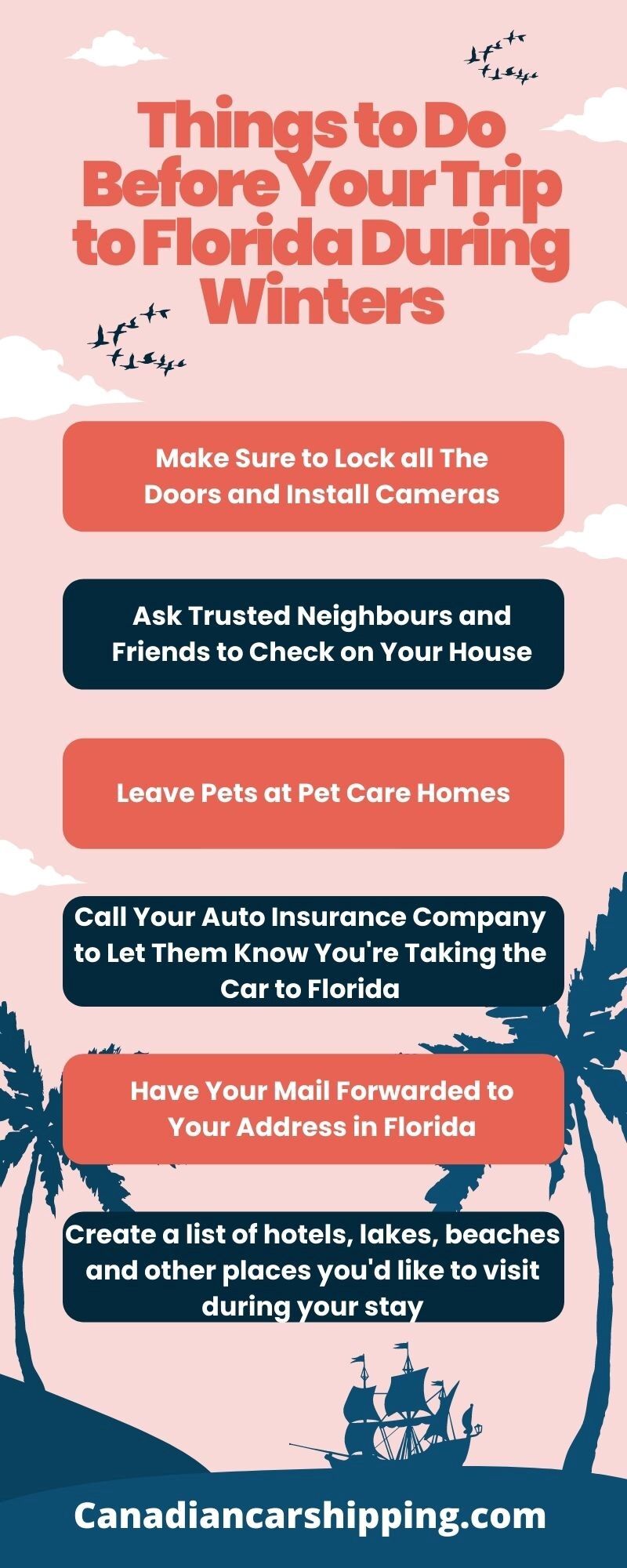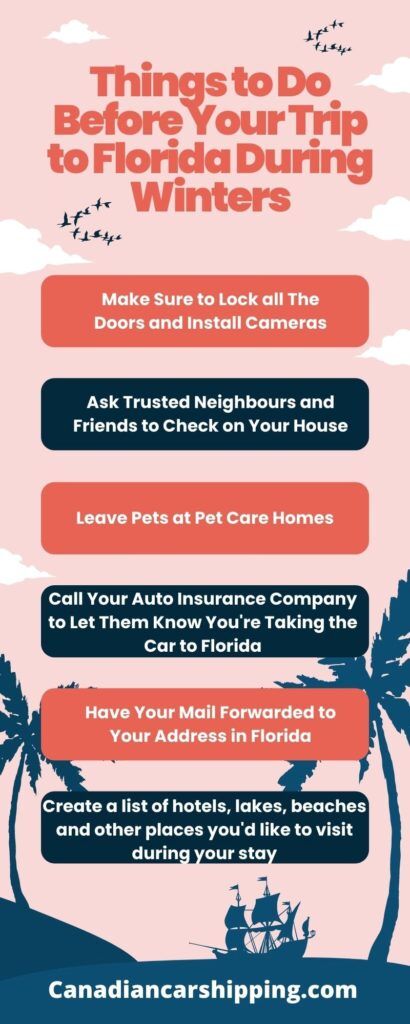 Precautions:
Lock all doors and install security cameras if possible
Give keys to a trusted neighbor or friend so they can check on the house from time to time
Give your pets to a pet care home if you are not bringing them with you
Call your car insurer to let them know you are taking the car to Florida
Have your phone line and mail forwarded to your new address in Florida
Planning:
Make sure to book a hotel location depending on your preference; sunset or sunrise. If you prefer the latter one, pick a beachside location. If you like to watch sunsets, pick a place near the Gulf of Mexico.
Make sure to visit the beautiful lakes of Florida, including Lake Dora. Winter Park also has a range of lakes to explore.
Try visiting Cedar Key, a hidden gem of Florida on the Gulf Coast. It's perfect for those trying to spend some time away from the crowd.
Visit Saint Augustine Beach and Crescent Beach, which are beautiful, vibrant, and filled with history.
There is no doubt Florida is one of the most beautiful places to visit any time of the year, but the cool environment of winter brings out the best in the Sunshine state.
Frequently Asked Questions
Where is the warmest place to go in Florida in the winter?
Miami is, without a doubt, the warmest city in Florida, even during the winter. Its temperatures reach 25 °C during the daytime and drop to 17 °C during the night.
What are the drawbacks of going to Florida during the winter months?
There will be a lot of tourists during winters, so you can expect rush at hotels, beaches, and traffic on the roads. Furthermore, the cost of accommodation and meals can be higher than on regular days mainly because of the high demand from travelers in winter.
What's the coldest Florida get?
Crestview might be the coldest city in Florida, with an average low of 4 °C during the night and 17 °C during the day in January.
How long can a Canadian stay in Florida as a Canadian?
Canadians can spend up to 6 months in the U.S from the date of entry. However, if, during this time, they exit and re-enter, this clock will reset, and they'll be able to stay another 6 months. Remember that attempting to enter and exit frequently can put CBP (Canada Border Protection) officers on your back, so make sure not to
Canadian Car Shipping Offers Winter Shipping to Florida at Economical Prices:
Canadians love to travel to Florida during the winter because it's a great time to enjoy warm weather and the beautiful scenery. The best time to travel there is usually between October and December, but it's important to check your local weather forecast in advance to make sure you're not going to get stuck in a storm on your way there.
Although some Canadians drive their cars to Florida, it's always good to call Canadian Car Shipping if you are moving your vehicle during winters. We will ensure that your car is safely transported to Florida, cleared from customs, and you won't have any problems along the way!