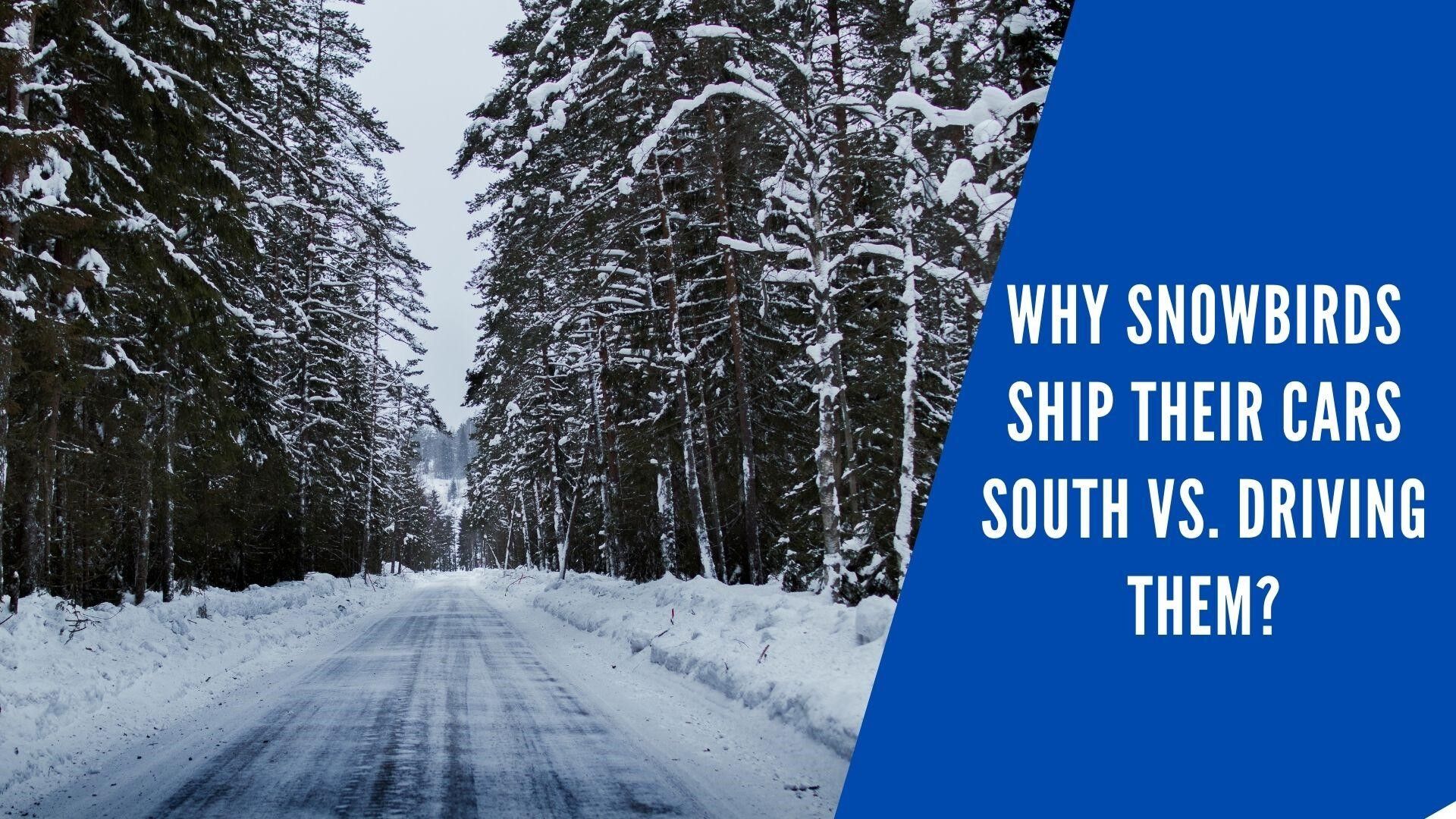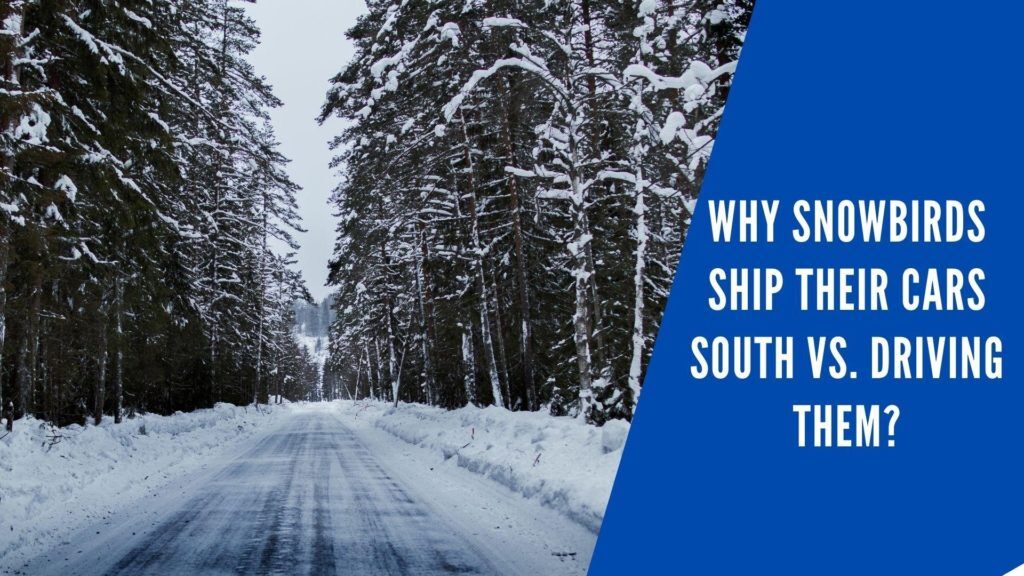 Why So Many Canadian Snowbirds Ship Their Cars South Vs. Driving Them? – [Answered]
The number of snowbirds in Canada has increased over the years. The reason is obvious: the weather down south during winters is better than up north. But, why ship their cars South instead of driving them? Let's find out!
You might have heard of the saying, "birds of a feather flock together." If this applies in the world of Silicon Valley, then it shouldn't be any different when it comes to snowy Canada. Canada is known as a winter wonderland. Therefore, many Canucks make the most of this season and pack up to their winter homes in the U.S. or make a quick trip to the Caribbean. However, what they lack is a good way to ship their cars to their destination.
To all snowbirds that go south to escape the cold, the thought of shipping their car across the border might sound extravagant. But, if you know the reasons, car shipping may be one of your smartest moves. Read on to know why car transport from Canada to the U.S is better than driving it:
What or Who is a Snowbird?
Snowbirds are those people who live in colder areas of Canada. There are many reasons why they move south during winters, but most of them do so to escape the harsh cold it brings. They enjoy warm weather, sun, sand, and beaches.
The term "snowbird" is derived from the bird's migratory habits, where they migrate from the northern areas of their home country and head south for warmer climates during the winter months. They typically migrate to a warmer place during the winter months. They often visit warm climates in Mexico, Florida, Hawaii, and California.
The snowbird community is also made up of travelers who move to a new location during the off-season when there are fewer tourists or locals. These might be seasonal workers or retirees who come back to visit each year.
Why Snowbirds Ship Their Cars South Vs. Driving Them?
Driving Can Be Risky:
Snowbirds opt for car transport to Florida and other southern areas because it's safer. With the drop in temperature and snow on the roads, driving becomes incredibly risky because roads become slippery.
Plus, the presence of fog reduces the visibility, making it even harder for them to navigate safely. This is the reason why, on average, 75,000 people get injured, and 1,300 die in crashes due to snow and ice fall each year. Therefore, many snowbirds fly to the south and ship their vehicles there.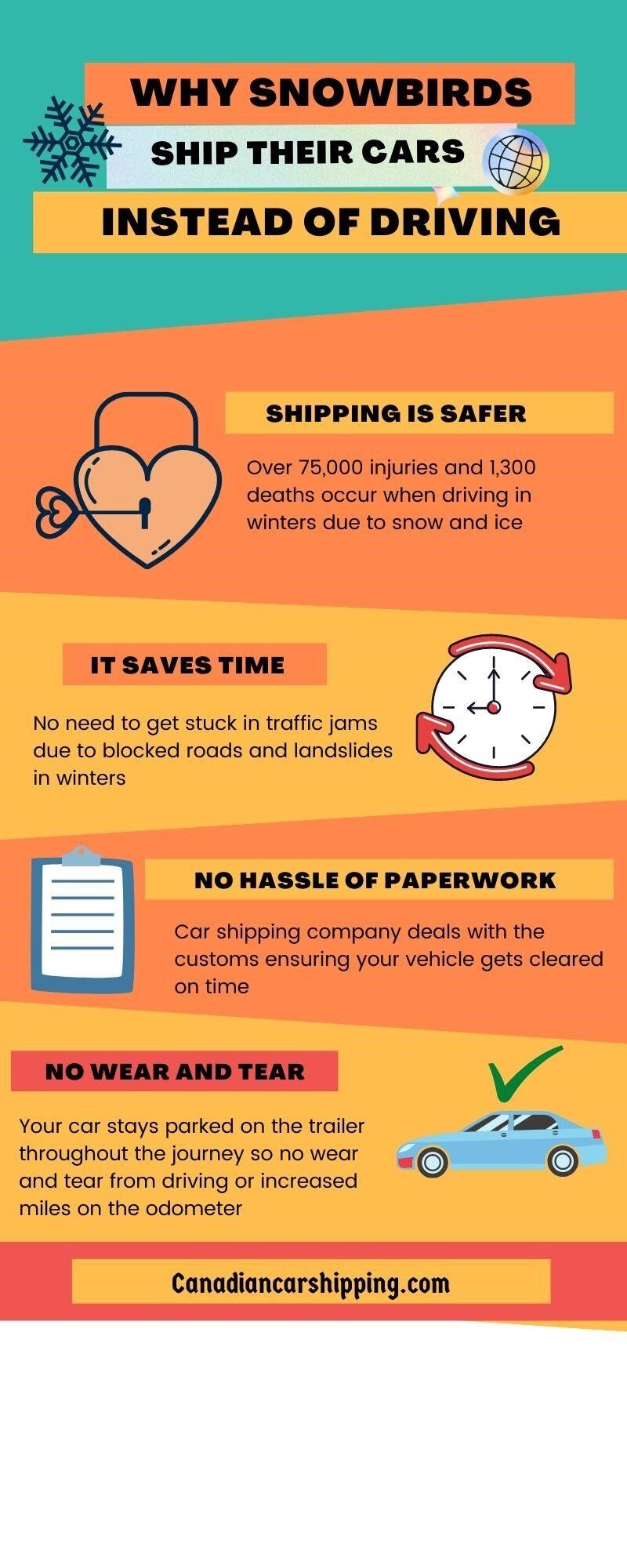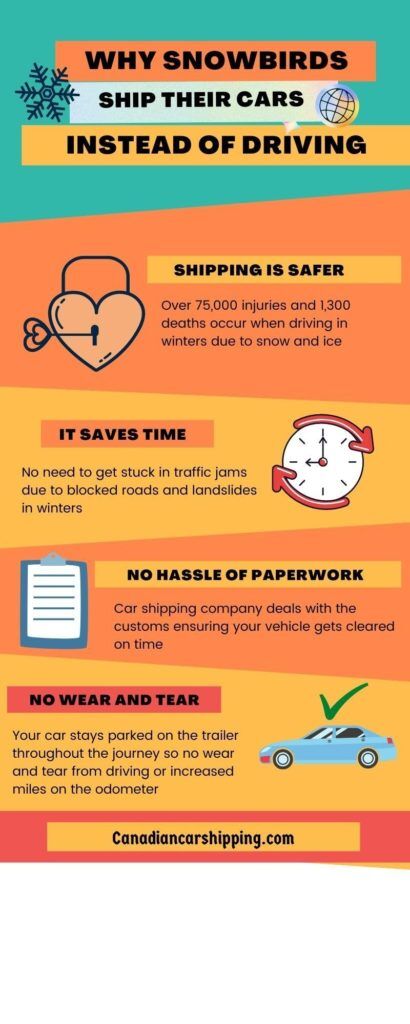 Driving Often Results in Long Waiting Times:
Besides this, the roads become jam-packed in winter due to many people going to warmer regions or spending time with family as the holidays approach.
Plus, certain routes get closed due to heavy snowfall and landslides. This leads to long wait times in traffic and further increases the risk of accidents as the cars stuck bumper-to-bumper on roads.
Snowbirds just hire a Canadian car transport company to move their vehicles and save all the time and hassle.
Auto Shipping is More Convenient:
Snowbirds don't have to worry about their vehicles getting damaged or breaking down during shipping. Plus, snowbirds travel to the south to enjoy the warmer regions and feel relaxed.
However, if most of the time is spent driving to and from the south on icy roads and traffic-packed roads, they'll spend many days shaking off the tiredness that'll come with driving thousands of miles.
To avoid all this, snowbirds hire a trusted car shipping company and let them do all the legwork.
Customs Clearance Can Be a Hassle:
Getting the car cleared at customs and going through mountains of paperwork is another hassle. There are so many regulations and rules to keep in mind and several documents to prepare and sign, which can be quite confusing to an average person.
Car transport companies move vehicles day and night, so they know exactly what's needed and take care of all the paperwork for their clients.
No Wear and Tear on The Car:
The distance between is thousands of kilometers, which means the driver will be behind the wheel for hours, sitting in the same position for hours, imaging how much strain and stress this can put on the driver's neck, back, shoulders and hips. But that's just the wear and tear on the driver. What about the car?
Covering 1,000+ K.M.s to reach the south and then do the same to go back after winters means damage to the tires, stress on the engine, and scratches and dents on the car from all the bumps and narrow passageway because of icy pavements. And that's not it; vehicle's odometer will have thousands of kilometers added by the time they return to Canada. This will slash several thousand dollars from the resale price of the car.
A car transport company specializing in snowbird car shipping can help them avoid all this by moving it on a hauler. The vehicle is secured with straps and chains and stays parked throughout the journey, so no wear and tear or addition of kilometers to the odometer.
What Happens When Snowbirds Arrive in Florida?
When the snowbirds arrive in Florida, it means that the winter tourist season is about to start. Many people plan their trips in the fall and start booking car transport services, booking hotels, and flights for their upcoming trip.
These tourists who come from the north mostly like to stay in vacation homes or rent apartments for the winter months, depending on how long they intend to stay in Florida.
How Do Snowbirds Ship Their Cars?
Snowbirds typically use one of the three modes to transport their cars to the U.S, including by land (via truck), rail, or plane. The truck is the most commonly used because of its low cost, high safety, fast speed, and excellent convenience.
Transport by airplane offers the same convenience and safety as a truck but is faster. However, it costs almost double or more than transport via a truck.
On the other hand, the train is cheap (only if the distance is greater), but it can take more time when crossing the border, mainly due to a change of operators. Moreover, it's not that convenient because you'll have to go to the station to drop off the car when shipping and pick up the car and drive it back when receiving.
| | | | | |
| --- | --- | --- | --- | --- |
| | Cost | Safety | Time | Convenience |
| Truck | $$ | High | Fast | Greater |
| Plane | $$$$ | High | Fastest | Greater |
| Train | $$ | High | Normal | Normal |
Some Important Things To do When Leaving Your Home in The North to Travel South: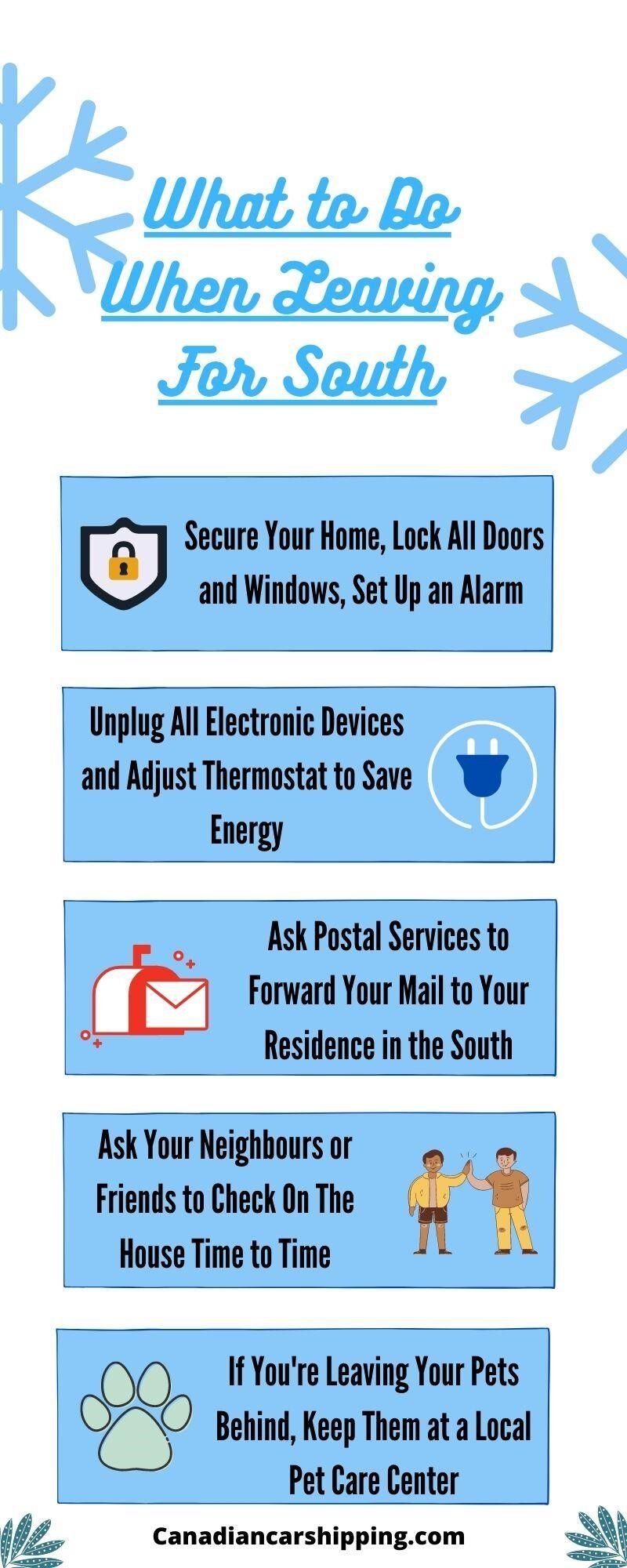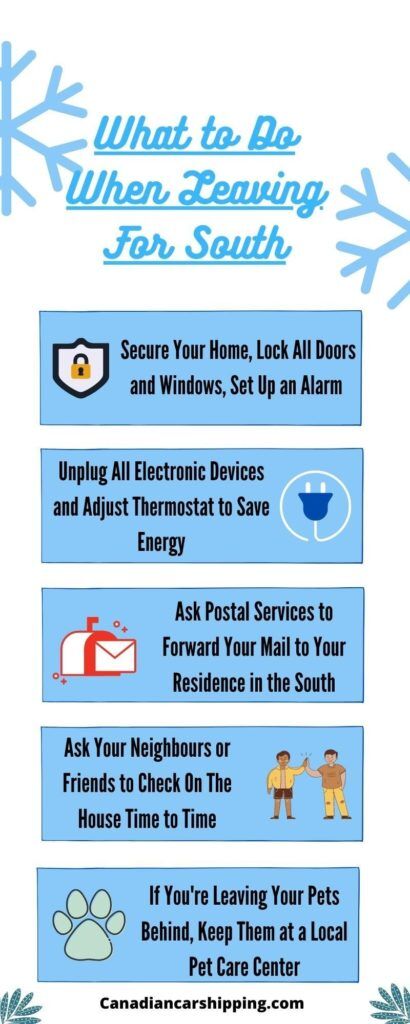 Frequently Asked Questions
What documents are needed to ship my vehicle to the U.S Temporarily?
A couple of documents and forms are required when temporarily importing the car to the U.s. These include form 3299 (for moving the car temporarily), vehicle registration photocopy, passport and driver's license copies, confirmation of Canadian residence such as a utility bill, U.S residence confirmation such as your U.S residence bill or hotel reservation information, and a valid visa to name a few.
How long can my car be in the U.S.?
You can bring your vehicle to the U.S duty-free for up to one year if you don't have a residency in the U.S.
How much it costs to ship a car from Canada to Florida
The cost to ship a car from Canada to Florida typically varies between $1,000 and $1,500 depending on the season, weather, distance, and vehicle type.
Can snowbirds drive across the border?
Yes, snowbirds can drive their vehicles across the border to the U.S whenever the border is open to public transport.
Can you leave a Canadian-registered vehicle in Florida all year?
Yes, they can, but they'll have to register the car and get a driver's license and insurance coverage in Florida.
How are snowbirds getting their cars to Florida?
Mostly through car transport services from Canada to the U.S., when the borders were closed during lockdowns, car transport companies were still allowed to cross, so almost every snowbird used the service to get their car across.
What do snowbirds do with their cars?
They ship them to where they're going in the U.S to conveniently drive around when spending the last quarter of the year there. Those who don't take their cars with them when flocking to the south typically store them in the garage or a self-storage unit.
Snowbird Car Transport By Canadian Car Shipping:
Hundreds of snowbirds trust Canadian Car Shipping throughout Canada for our timely response and delivery at incredibly economical costs.
Whether you need to move a car, van, motorcycle, or truck, we can make it happen, ensuring your vehicle arrives at your preferred location in the U.S safe and on time.
You can always call us at (800) 381-6907 or use the shipping quote calculator to receive free car shipping quotes for snowbird auto transport.