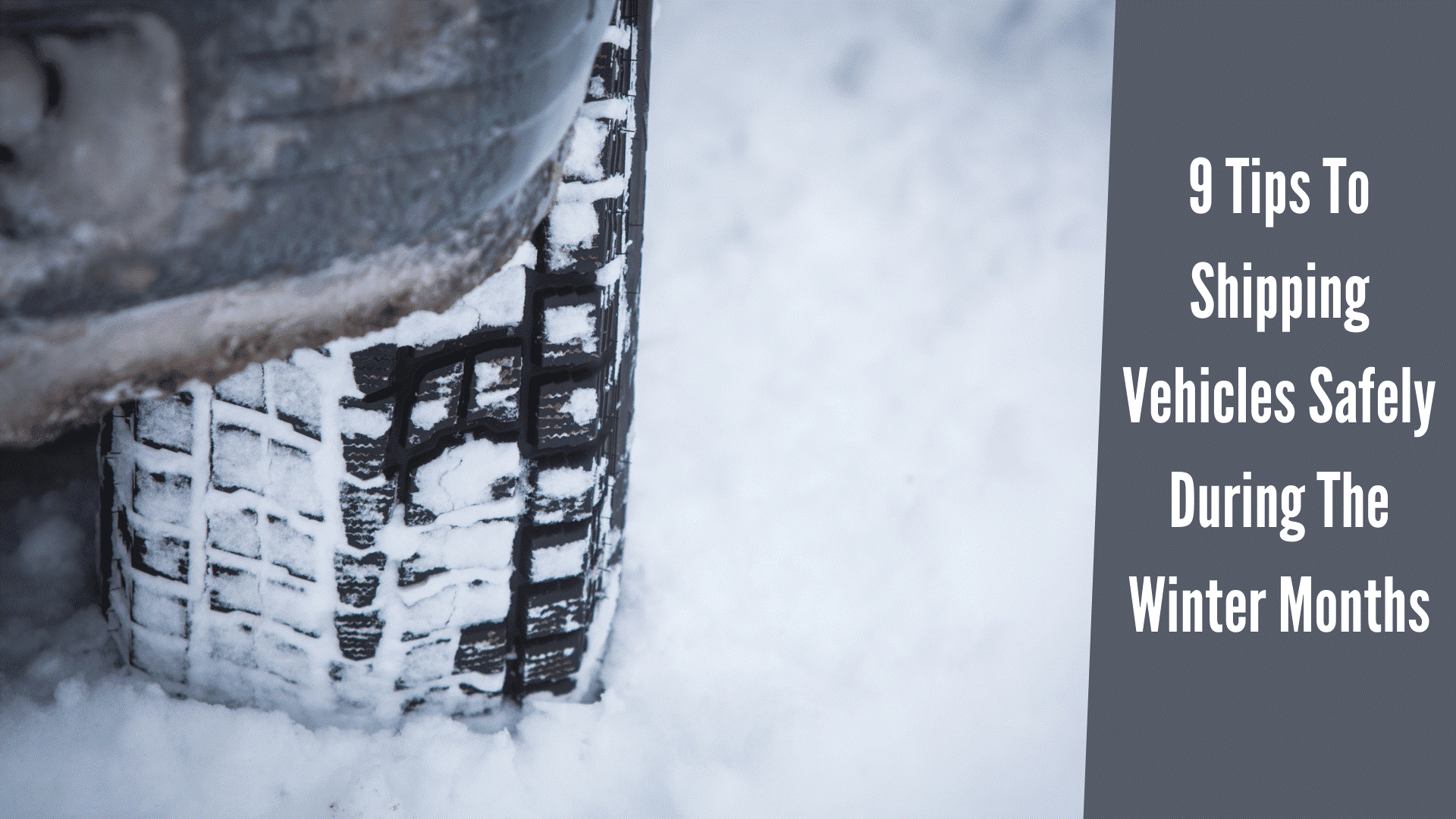 9 Tips To Shipping Vehicles Safely During The Winter Months
The winter season is a time of year when many people in the United States worry about the safety of their personal vehicles. Fortunately, a few very practical tips can help you organize and transport your vehicle safe during the cold months.
In this blog post, we'll provide a complete guide on preparing your vehicle for winter weather conditions, what to do if there is a snowstorm, and the basic precautions you should take while shipping a car. We'll also share some tips on minimizing the cost of shipping a car during winter. So read on and stay safe this winter!
Preparing your vehicle for winter weather conditions – 9 Practical Tips
Make sure the tires have plenty of treads
Make sure the car tires are in good condition and have plenty of treads. In the winter, having studded snow tires on your vehicle will ensure a smooth ride, even on icy roads. This way, you'll be prepared to drive the car when it arrives without worrying about slips and slides. Check tire pressure and ensure they're at the manufacturer's recommended level- it would be a shame to arrive at the destination only to find that a tire is flat!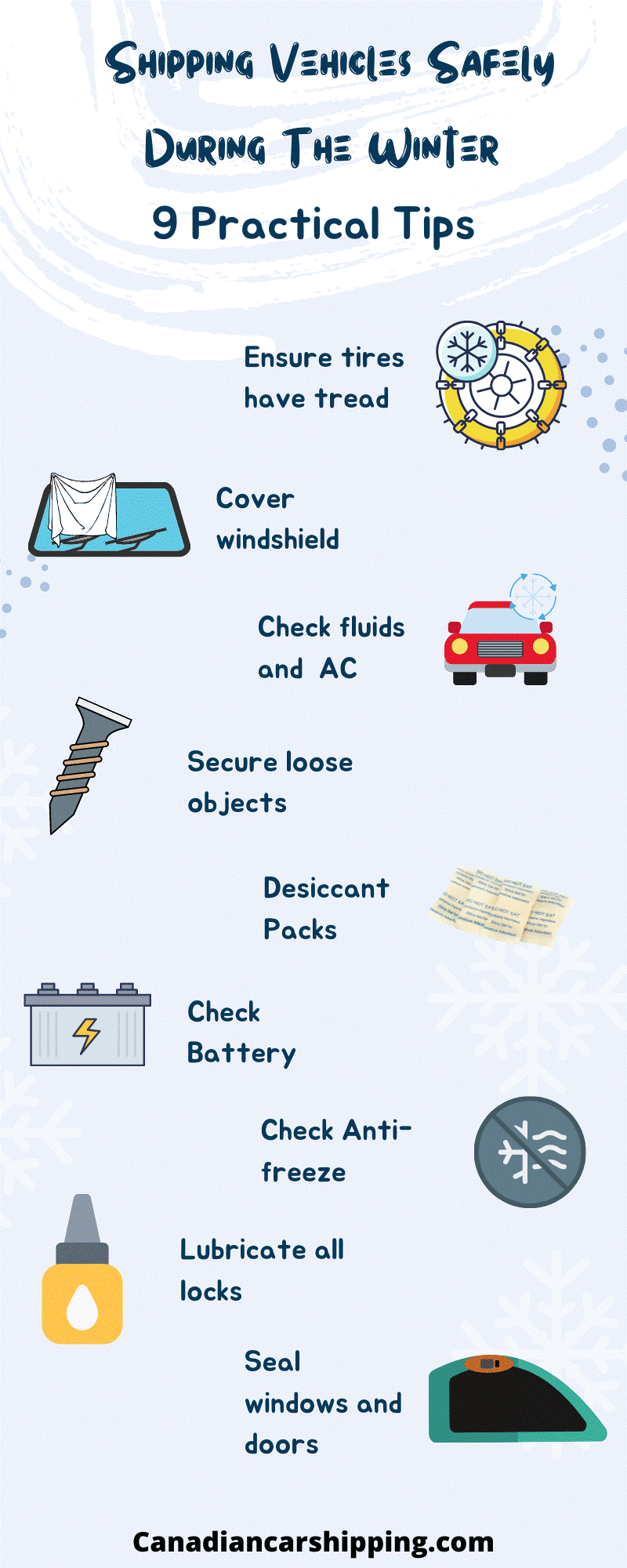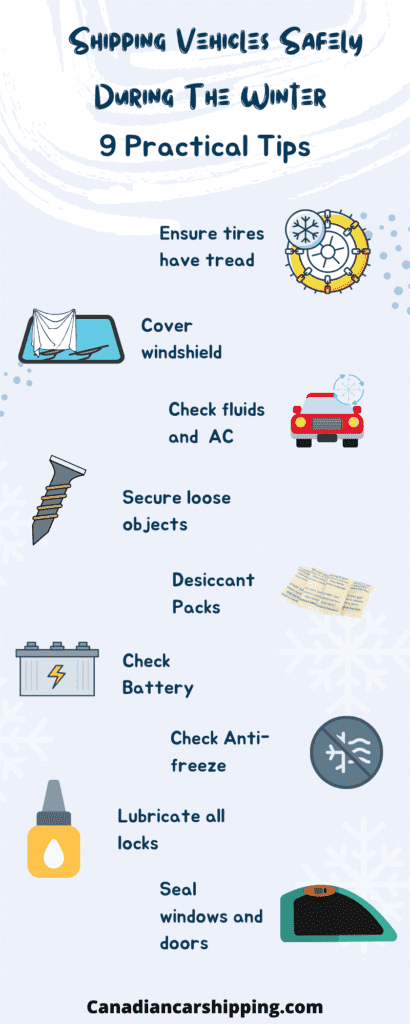 Make sure your windshield is in good condition
Freezing conditions can cause your windshield to crack, so try covering it with a windshield protector. In addition, you can replace washer fluid with one with a lower freezing point, so it's not frozen when you arrive. You can also switch the wiper blades to winter blades to withstand extremely cold temperatures.
Check fluids and air-conditioning levels
It is important to check the levels of fluids and air-conditioning in your car during the winter months. Doing so can help you prevent any potential accidents or fluid leaks. Additionally, it's a good idea to have the car inspected for any fluid leaks, which can result in frozen pipes and damage. Make sure your air-conditioning system is working properly – a faulty compressor can cause excessive interior condensation. Finally, use premium fuel instead of low octane as it may freeze inside the gas lines in extreme cold weather conditions
Secure loose objects
It is important to secure loose items before your car leaves for its winter destination. This can be done by tightening any screws and bolts that may be loose, as well as making sure windows are properly taped.
Put Desiccant Packs inside
During the winter months, it is essential to place desiccant packs inside your vehicle to keep it safe and dry. Doing this will help reduce the chances of corrosion and damage caused by moisture. Be sure to place them under the seats, inside the trunk, and even in the cabin! This way, you can ensure the vehicle is ready for whatever comes its way during these months.
Check Battery
One of the key ways to keep your electronics running smoothly throughout the winter is to check your battery's condition and ensure it's fully charged. This can be a bit tricky as cold weather can cause batteries to lose power, making them need to be recharged more often. To avoid any corrosion on the terminals, have them cleaned. And last but not least – make sure you have a spare battery just in case!
Check Anti-freeze levels
It's essential to check your vehicle engine's anti-freeze levels before shipping. This will help prevent the engine fluids from freezing, which can cause damage and even a breakdown. Make sure you always refer to the manufacturer's recommendations as road conditions or temperature changes can affect how much anti-freeze is needed.
Seal and lubricate doors, trunk, and bonnet
Applying a lubricant layer to keep your car running smoothly in winter can go a long way. Additionally, make sure all doors and trunk are sealed tightly for extra insulation. And finally, keep the inside of your car warm by ensuring all air vents are clear and closed.
Seal windows and doors
When it comes to winter weather, one of the most important things you can do is keep your car well-sealed. This will help prevent snow and ice from accumulating in the vehicle.
How to protect against ice and snow buildup on the vehicle?
Shipping a car during the winter months can be a tricky business. The process of loading the car onto a trailer or truck can be dangerous if not done correctly. Here are four tips to make the process a bit safer for both you and the vehicle:
Use Vehicle Cover: A vehicle cover can help prevent snow and ice from piling up on your car, thereby helping keep it clean and free of debris. This can save you a lot of time in the long run as it will avoid any potential damage caused by the accumulation of snow or ice.
Use an enclosed container: By using an enclosed container, you can protect your vehicle from damage in the event of a crash. Plus, since snow and ice will not be able to accumulate on the surface of the container, you won't have to spend time scraping it off later on.
Choose a lower deck on the hauler: In order to avoid snow buildup on your vehicle, it is best to use a hauler's lower deck. Doing so allows you to place your car safely and dryly where the snow won't accumulate.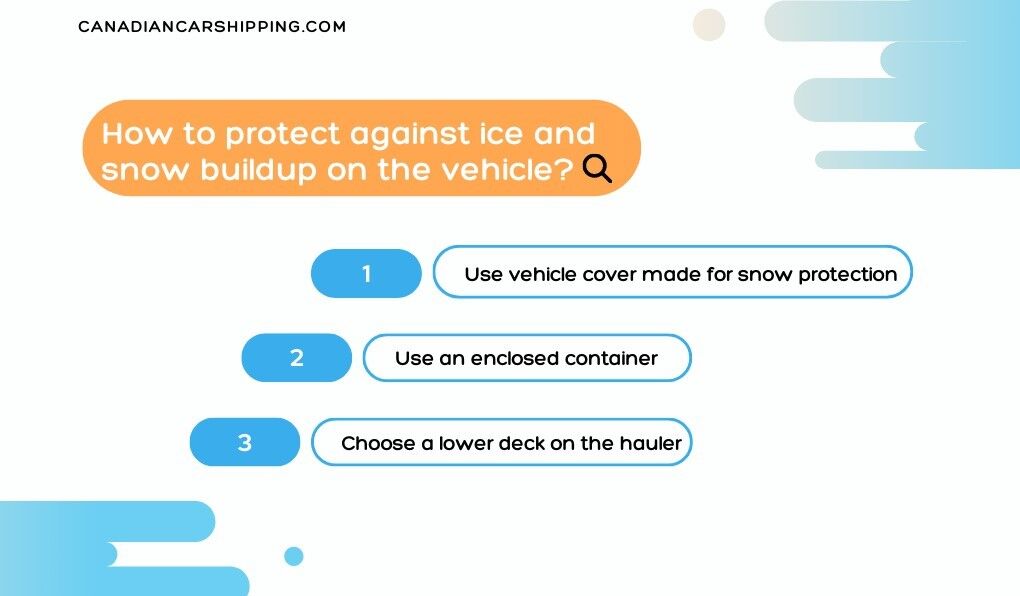 What to do if there is a snowstorm in your area?
Shipping a car during the winter can be daunting, but with a little preparation and caution, it can be done safely.
Check Forecast in Advance
There's no need to stress out when shipping a car during winter. With a bit of advance planning, you can make the process as smooth and safe as possible. Follow these tips to stay ahead of the weather:
Keep an eye on current weather conditions and plan your route accordingly.
Make sure you have all the supplies and equipment necessary for safely shipping a car, such as snow tires, chains, blankets, etcetera (depending on your destination).
Always check forecasts in advance so that you are aware of any potential hazards or complicating factors along your transport route
Double Check With the Transport Company
To avoid any inconvenience or disappointment, double check with the transport company in advance is always a good idea.
You can also confirm the pickup and delivery dates, so there are no changes due to inclement weather. Doing this will ensure that your trip goes as smoothly as possible.
Get Expedited Shipping if in a Hurry
If you're in a rush and need your vehicle to arrive before the storm hits, expedited shipping is a great option.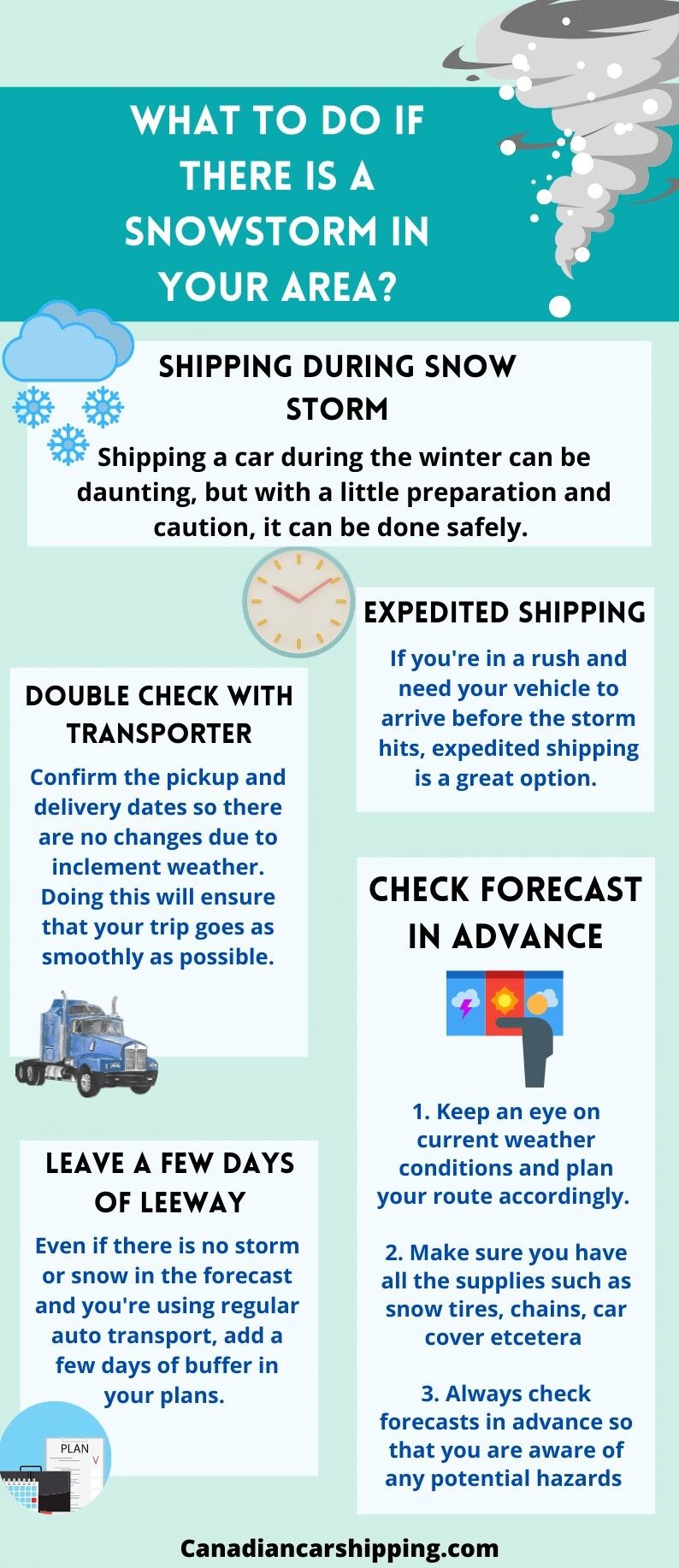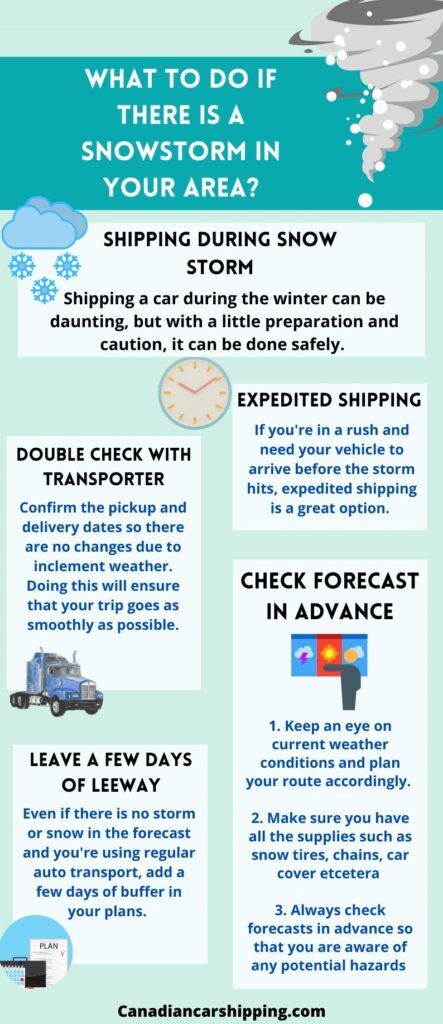 This will get it shipped as soon as possible – during the winter months when shipping can be especially fast.
Leave a Few Days of Leeway in Your Plans
Even if there is no storm or snow in the forecast and you're using regular auto transport, add a few days of buffer in your plans.
It's Canada, so you never know when the Great White North has a snow storm coming.
How to Minimize Cost When Shipping a Car in Winter Months?
· Get help from a professional transporter: The right transport company can help make the process as hassle-free as possible for you. However, don't fall into the traps of aggregators – these companies put their commission on top of the broker's fee, which can amount to quite a bit extra. Instead, get a quote from a professional transporter who will ensure that your car is transported safely and without any damage. By doing this beforehand, you can avoid any potential mishaps along the way!
· Negotiate: Getting discounts on special occasions is among the best ways to negotiate. This can be done by asking for a discount when an occasion such as Black Friday, Thanksgiving, or New Year falls around. Even if the merchant insists on setting a fixed price, playing hardball will usually result in getting a better deal.
· Try Shipping Between September and November: Shipping a car during the slow season can be cheaper than shipping in summer or winter. The car transport industry is usually slow in September and October, which gives car carriers more time to move cars around and reduces their prices. Try shipping between September and November to find out if this is true for your particular case!
Parting Words:
Shipping a car during the winter can be tricky, but with a little preparation and some help from professionals, you should have no trouble getting your vehicle to its destination safe and sound.
Canadian Car Shipping offers top car transport prices in Canada with an excellent track record. Feel free to call and get our auto shipping quote. Once you're ready, we'll get your vehicle shipped, no matter how cold or harsh the weather is.