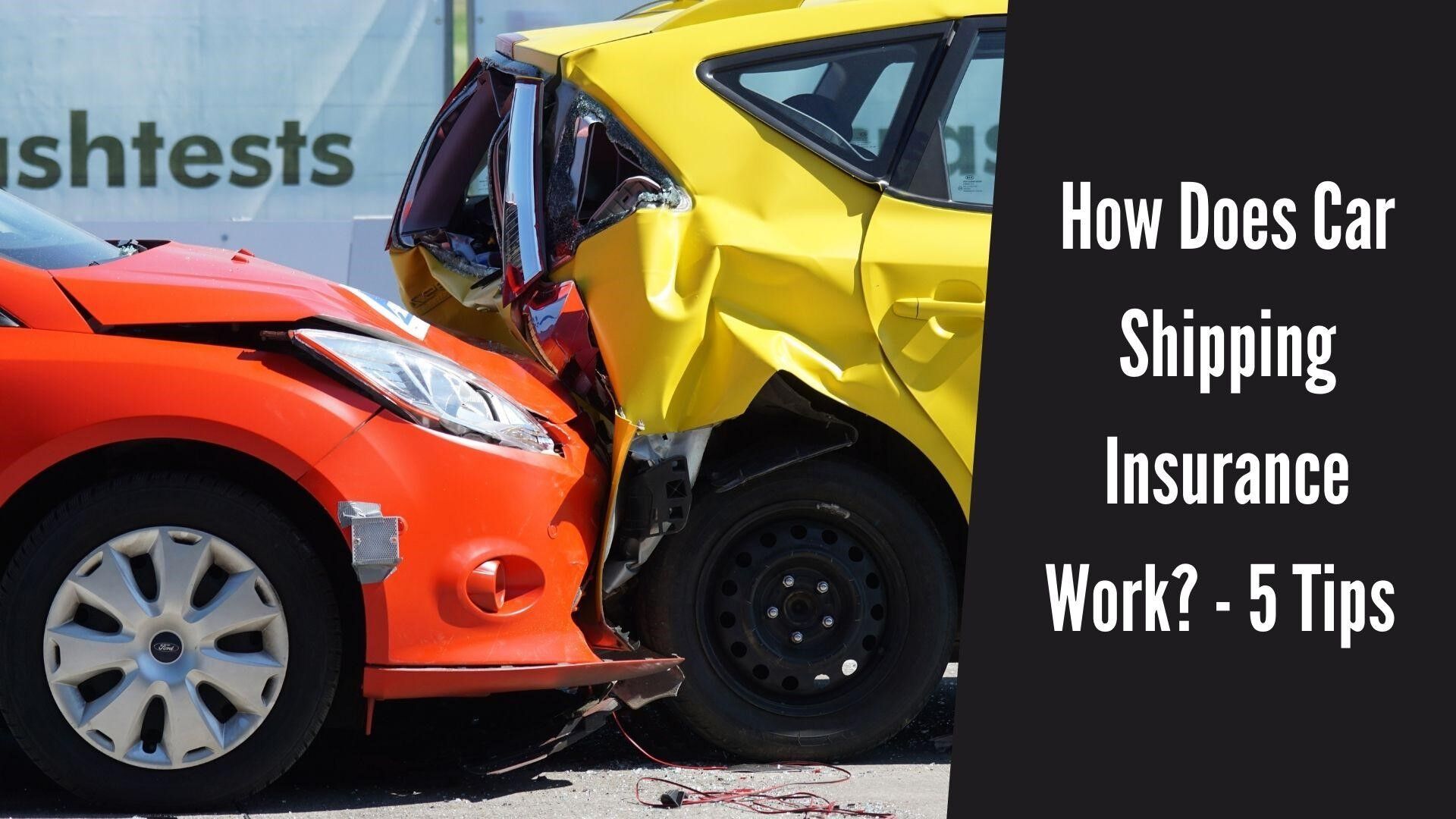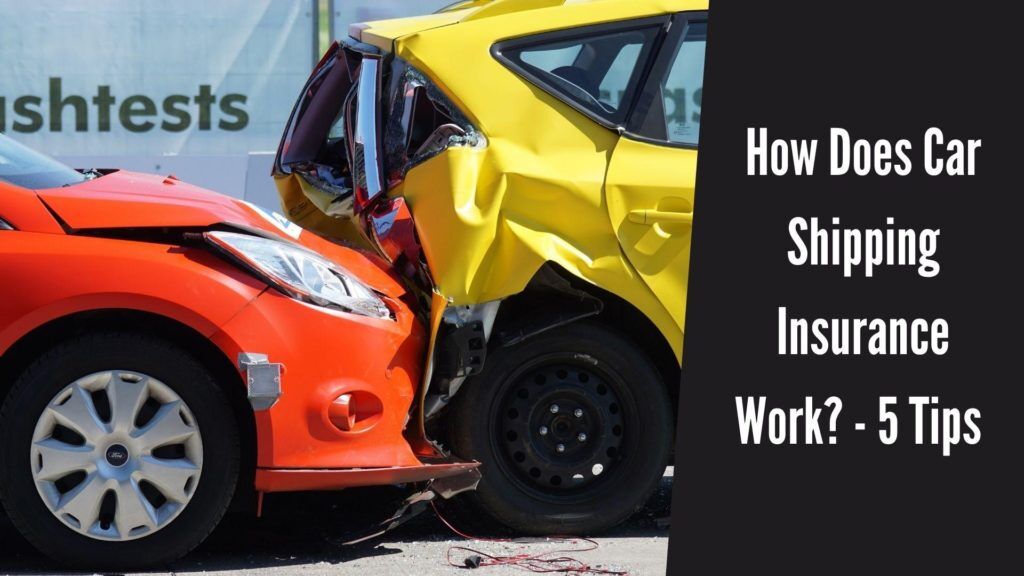 How Does Car Shipping Insurance Work? – Insurance Tips When Moving Your Car
Do you know how insurance works when shipping a car? This article talks about the various insurance options available, how they work and the best practices to ensure you get the best coverage during car transport.
If you're planning on transporting your car, it's important to know how car shipping insurance works. Not only will this insurance provide you with peace of mind, but it will also cover any damage done to the vehicle while it's in transit. If something goes wrong, the insurance will cover the costs of repairing or replacing your car.
However, things may not be as simple as there are some nitty-gritty details like whether the auto shipper even has enough coverage to cover your vehicle? Let's talk about that and more in this article so you can move your vehicle safely:
What is Car Shipping Insurance, and How Does it Work?
In short, car shipping insurance is a type of insurance that covers the vehicle from the moment it is shipped to the moment it reaches its destination. This means that you don't have to worry about covering the vehicle for transit yourself.
It is sometimes also known as cargo insurance as it protects the cargo on the hauler, which in this case is mostly cars. If something goes wrong, the insurance will take care of the damages caused to the vehicle. It's as simple as that!
However, remember that the coverage amount is divided among the vehicles on a hauler. This means if a hauler has eight vehicles and the carrier has $400,000 coverage, then each car may have $50,000 in coverage.
Types of Car Shipping Insurance:
Car transport typically involves three kinds of insurance policies. Knowing them can help you differentiate between the policies and ensure your vehicle has enough coverage during the transit.
1. Customer Insurance:
This is the car insurance service that you have taken out on your vehicle. It is your regular auto insurance, and when you're transporting your vehicle, some insurers offer coverage for that as well. However, you will have to let your insurance provider know that you're moving your car and ask if it is still covered or not.
2. Carrier Insurance:
This is the cargo insurance that is taken out by a car shipping carrier to cover your car during transit. They are responsible for the safe delivery of the vehicle and will take care of everything that goes wrong with the transportation. Most carriers have a minimum of $100,000 in coverage for the car. The coverage amount can go as high as $1 million or even more. This means that you don't have to worry about covering the car yourself.
3. Broker Insurance:
Car transport brokers are the middlemen who connect carriers with their customers. They are the brains of the transport operation and effectively manage everything to ensure the customer doesn't have to face any problems or, worst, get scammed.
Although brokers don't have their own insurance coverage, they do offer supplementary 3rd-party insurance coverage to customers if they are looking to increase their vehicle's coverage amount. Many auto brokers offer GAP coverage insurance which is also a 3rd party, and customers can purchase it if they want to increase the coverage amount.
Insurance Types Comparison:
| | | |
| --- | --- | --- |
| Car Shipping Insurance Type | Requirement When Sipping | Coverage Amount |
| Customer Insurance | Optional But Beneficial to Have | $100,000-$300,000 |
| Carrier Insurance (Cargo Insurance) | Compulsory | $100,000 to $1 Million |
| Broker Insurance | If cargo coverage is lower than vehicle value | Depends on the Difference |
What's GAP Insurance Coverage:
GAP insurance is a 3rd party insurance policy that you can buy, and its purpose is to cover you in case anything goes wrong during the transport process. It is not a standard auto insurance policy but an extra coverage that car brokers can offer to customers. The most common scenario for GAP coverage is when the car shipping carrier's coverage is not enough.
This means if their coverage amount is $100,000 and there are five vehicles on the hauler, then each vehicle may get $20,000 coverage. Now, if your car has a higher value, let's say $30,000, then you can get GAP coverage of $10,000 to cover the gap.
Why is Cargo Shipping Insurance So Expensive for Carriers?
Cargo insurance for car shipping carriers is expensive for a few reasons.
For one, it can be difficult to determine the value of a vehicle in the event of a shipping accident or loss.
Secondly, claims processing can be time-consuming and often requires specialist knowledge.
And finally, cargo insurance policies tend to be expensive because they often include exclusions and conditions that raise the premiums.
The cost varies depending on where you ship your vehicle, where it's going, and what insurance coverage you want. For instance, shipping from Ontario to Toronto will cost a lot more than shipping from Ontario to Calgary. This is because insurance rates are generally based on where the vehicle is being shipped to and from and the total distance. The longer the distance and the more high-value vehicles are shipped, the higher the insurance coverage cost will be for the carrier.
Car Shipping Insurance Tips When Hiring an Auto Shipping Company: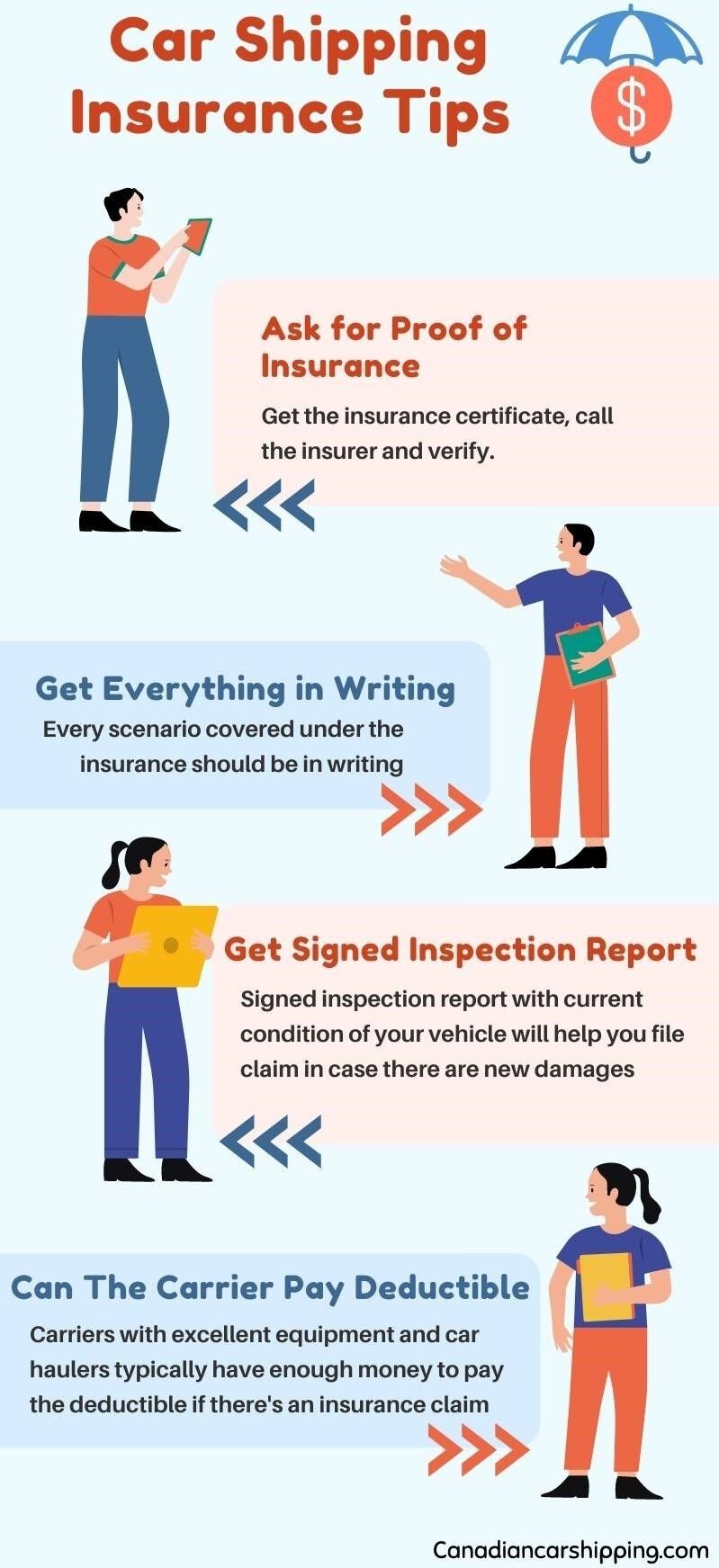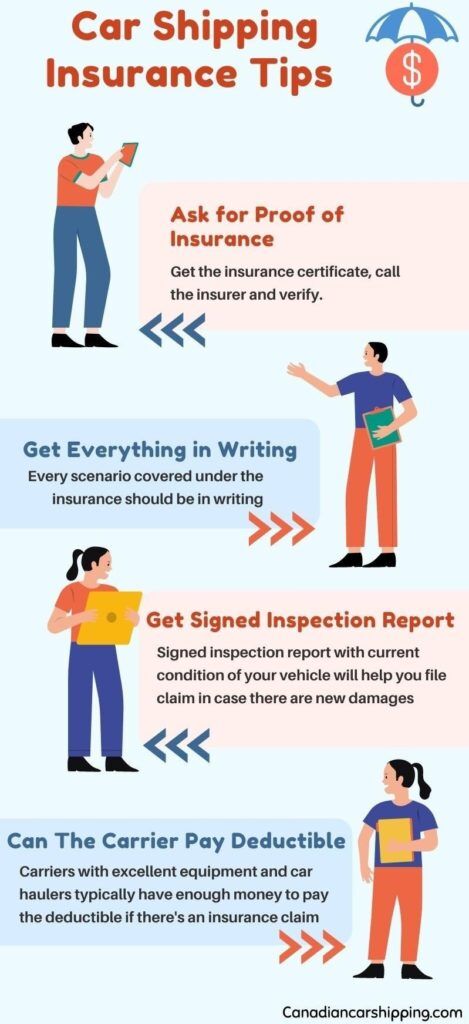 Ask for a Certificate of Insurance: This is the first step to making sure your vehicle will be covered during the transit in case of an accident, theft, or damage. So ask the insurer to provide you with proof of insurance, which will typically be in the form of a certificate of insurance. You can go a step further and call their insurer and verify whether or not the transporter is insured.
Have Everything Written: You need to make sure everything agreed between you and the car transporter regarding the insurance of your vehicle is in writing. Things like the situations under which the vehicle is covered, the amount of coverage, starting and ending points of coverage periods, and so on should be on paper.
Take Out All Personal Items From Inside The Car: Remember, cargo insurance doesn't cover the personal belongings inside the vehicle. This means if you have any documents, jewelry, clothes, or other items inside the vehicle that are not a part of it, they won't be covered. So if they get damaged or stolen, you won't receive compensation. So make sure to take them out from the vehicle before transportation.
Get an Inspection Report Copy: You should be present at the time of vehicle inspection because you don't want the carrier to miss anything or add damage that is not there. Make sure to have your vehicle washed before inspection so that everything is clearly visible. Take lots of pictures and get a signed copy of the inspection report from the carrier. This report will help you with an insurance claim in case the car is damaged during transit.
Check If the Carrier Can Pay The Deductible: Is your carrier even able to pay for your losses if there's an accident or theft? This can be known depending on whether or not they can pay the deductible. The auto shipping business already has low profitability, and that's why transporters take out insurances with higher deductibles, so they don't have to pay higher premiums. Now, in this case, if they have to make an insurance claim, they will have to bear a significant amount for damages from their pocket. Not every auto transporter can do this with the low margins they operate on. So make sure to discuss this with them and also check the condition of their gear, trucks, and how long they've been operating to ensure they are in excellent operational condition.
Frequently Asked Questions:
Is having car shipping insurance required by the law?
Yes, it is required by the law for the auto transport companies to have car shipping insurance, or else they may not get their license. This ensures the customers have peace of mind when moving their vehicles.
Can car dealerships ship vehicles if they have insurance?
Yes, they can transport the vehicle to your destination if they have an insurance policy. Make sure to first ask for the certificate of insurance before letting them move your newly bought car. If they cannot show it, hire a 3rd party auto transport to ship your vehicle.
Does auto insurance cover car transport?
This depends on your policy and insurer. Some do, and some don't. You can read the fine print of your car insurance policy with all the clauses and see if there is any clause that protects the car if it gets stolen or damaged during transport. Or, you can directly call them to ask them about this.
Canadian Car Shipping is Fully Insured With Higher Coverage:
Car shipping insurance has become an essential part of any smooth move. Whether you're moving your car or anything else, it's always a good idea to have some form of insurance in place.
With so many moving companies now offering car shipping insurance, it's important to know what to look for in terms of coverage and what to do if you ever have a problem.
Canadian Car Shipping has a comprehensive cargo insurance coverage that protects all vehicles shipped through it. So if you're looking for a safe, reliable, and affordable car shipping service, be sure to check us out!